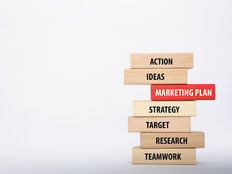 If you don't have a written marketing plan in place for your advisory practice, you aren't alone. Research indicates only about one-third of financial advisors have an actual written marketing plan.
If you don't have one, why not start 2018 off strong with a clear marketing plan and calendar to intentionally connect with and guide your marketing efforts with your ideal clients and prospects?
Even if you are one of the few that do have a formal marketing plan, be sure to revisit it periodically and solidify your marketing calendar for the new year ahead.
The payoff for having a written plan is ensuring you are focusing your time on the right marketing activities and keeping you from spending both unnecessary energy and dollars on activities that don't impact your bottom line.
The Difference Between a Marketing Plan and a Business Plan
You may be thinking, "I already have a formal business plan in place, is a written marketing plan really necessary?" The answer is, yes! So, what's the difference?
Your business plan essentially outlines what your business is all about. It also clearly identifies your business goals. It includes an executive summary, your mission and vision, your service model and process, financials and your competitive analysis. These elements are not part of your marketing plan.
A marketing plan specifically outlines your marketing strategy and the tactics you will use to promote your services, cultivate new leads, retain established clients and, ultimately, drive revenue. It also focuses on a set period of time, typically a calendar year. It covers marketing specifics, such as your budget, marketing goals and action steps.
What your business plan and marketing plans do have in common are that they should be consistent with each other and that neither are fixed documents. They will both alter as your business changes and the industry changes, and new marketing trends continue to evolve.
---
Content continues below advertisement
Your Marketing Plan
While you certainly can write a more extensive marketing plan, the basics should include identifying your target market, articulating your objectives and goals, developing your marketing strategies and tactics, creating a marketing calendar and establishing your budget.
Defining your target market is crucial. Who exactly is your ideal client? Be sure to describe your ideal client in as much detail as possible, including both quantitative and qualitative details. The importance of a specific definition of who your ideal client is cannot be overstated. It is easier to find new ideal clients when you have a crystal-clear definition of who they are (and who they are not). This will also help you in creating effective marketing that speaks directly to your ideal market. With everything you do, you should always use the litmus test, "does my ideal client care about this?"
Your Marketing Objectives and Goals
Simply put, what do you want to accomplish with your marketing plan? What are your specific goals for the time period of the plan?
Be explicit in your goals of the plan, such as find X new ideal clients in the next twelve months, gain X new followers on social media, increase assets by X percent or gain X new COI strategic partners. By having clear, quantifiable goals in your marketing plan, you will be able to measure the effectiveness and return on investment of your marketing plan with ease.
Your Marketing Strategies and Tactics
What will your approach be for achieving your marketing goals and the objectives you identified? Your strategies should identify your main vision to fulfill your goals and objectives.
In essence, your marketing strategies make certain your day-to-day marketing activities, which are your tactics, are impacting your goals. Your marketing tactics are all the activities you will do daily, weekly and monthly.
Make an exhaustive list of the marketing tactics you want to implement over the next twelve months. This includes everything from social media, blog writing, client events, podcasts, networking with clients, prospects and centers of influence, newsletters and public speaking, to name a few. Once you have created a list of all of your marketing activities you will commit to, you are ready to begin your marketing calendar.
Your Marketing Calendar
This part of your marketing plan is vital. Marketing easily can become an activity that gets pushed aside when you are limited on time. Avoid this trap by creating a marketing calendar with hard dates and deliverables, and stick to it.
Write out your marketing activities and events for the entire year, noting what needs to be done daily, weekly and monthly to achieve your results. If an activity does not have a date, for example developing your website, mark the targeted date you plan to implement it to keep you on track. It is best to mark estimated dates on the calendar than to leave any tactics off completely.
To develop your calendar, you can use an Excel spreadsheet with the months listed horizontally across the top and your marketing tactics listed vertically down the side. Consider color-coding your marketing tactics to help you with organization.
Remember that a marketing plan works when marketing is done consistently. Most tactics will take a good three to six months to garner real results. Don't think that hosting one client event or writing a few blog posts will show immediate results. Consistent marketing tactics will reap rewards. Having said this, be sure to routinely assess your results at least quarterly. If you are not seeing results after six months, you may need to revise your plan.
When creating your marketing calendar, you may also want to create a column for feedback and notes. Make notes about your time commitment to each tactic, as well as what you like and dislike about each tactic and how committed you feel you are to it. You may even want to consider ranking your commitment to each tactic on a scale of one to five.
Your Marketing Budget
Be sure to determine how much you will spend on your marketing plan. Research from the Oechsli Institute indicates elite advisors spend at least four percent or more of their gross production on marketing. 2 Oechsli advises that financial advisors should budget between two and ten percent of gross revenue on marketing. You need to determine what budget is best for your practice.
Once you have an established your budget, add a column to your marketing calendar spreadsheet for budgeting, and list all of your expenditures to help you in determining your return on investment.
The Bottom Line
A strong marketing plan and calendar can be key differentiators for you as an advisor.
Remember that a marketing plan needs to be revisited often and refined to help you achieve your goals and drive revenue. Don't give up if you don't see immediate results. Stick to your plan and make 2018 your best year yet.