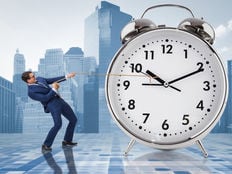 Do you feel like you lack control over your time? Well, the struggle is real and you certainly are not alone.
Research from the FPA Research and Practice Institute shows that just 13% of financial advisors feel like they have complete control over their time.
If you find yourself spending the majority of your day being reactive instead of proactive, it may be time to make a change to strive to become more effective and efficient with your time.
Focus on What You Can Control
The ugly truth is that there will always be elements to your day that are completely out of your control. However, it is important to have a game plan for accomplishing your highest priority activities that you can control.
What time of day do you believe you are most efficient? Is it first thing in the morning? Is it right after lunch? Only you can determine when you believe you are the most productive. Once you have identified your peak time for productivity, arrange a time block for your highest priority tasks at that same time every day.
---
Content continues below advertisement
Time Blocking
If you do not already time block your days and weeks, it is a solid time management strategy for using your time wisely and ultimately achieving that greater productivity you are striving for.
Consider setting aside time every Sunday night to time block and prioritize your week ahead. Getting focused and creating a to-do list for the start of your week will help you feel prepared and ready to focus on the elements of your day that you can control once Monday morning hits. If prioritizing for the entire week is too much for you, consider time blocking and creating a to-do list the night before each day so you know what's in store for the next day.
If you prefer paper and pen, you can write out your blocks of time manually. You can also choose to enter them into an excel spreadsheet or utilize an app like PomoDoneApp.
Your goal is to chunk out time blocks for your most productive activities. These should be solid chunks of time with zero or minimal interruption — at least one to two hour time blocks. What are your most productive activities? Simply put, these are your highest income-generating activities. You can identify these easily — business planning, preparing for client meetings, center of influence meetings and identifying new prospects, to name a few. Take the time to create an exhaustive list of your most productive, highest income-generating activities.
Identify Your Least Productive Activities
Just like your most productive activities, you need to identify your least productive ones as well. Time is precious. There are only so many hours in your workday. Unfortunately, we all wind up engaging in activities that are a complete time vacuum. We can easily fill our days with activities that are not a high priority. The problem lies when you are engaged in these time-consuming activities that are also not productive. This is a double whammy.
It is important to identify those tasks that are eating away at your time. Some of these tasks are unavoidable like checking emails and voicemails. Instead of getting into the reactive mode trap of constantly checking your email and voicemail, time block two or three set periods of the day when you focus your attention on this alone.
Track Your Activities
Not sure exactly where you are spending your time every day? Track your activities for at least a week (ideally a month) to see where you are spending your time. Chances are, you will be shocked to see how you are spending your days.
You can track your time manually or use an app such as RescueTime or Toggl. There are even some CRM systems that can run time tracking systems in the background of your computer, such as Junxure.
Once you have identified those highly inefficient tasks, ask yourself if you are delegating what you can or should be. It is probably time to move on from being the doer of those tasks to the delegator of those tasks to someone else on your team. While some of the tasks may be hard for you to give up because you prefer to control them, if they are not highly productive or income-generating tasks, you should likely not be engaging in them. If you are a sole practitioner, it may be time to consider hiring an assistant or intern to whom to delegate.
Plan Regular Team Meetings
Going hand in hand with delegating tasks, it is important to schedule regular team meetings. Decide how often these are necessary. Weekly is probably the most ideal. Keep in mind, these meetings should serve a purpose and not be a time waster either.
Regular team meetings can help to avoid reactive mode, eliminate interruptions and those spur-of-the-moment communications that can hijack your peak productivity time blocks. If regular meetings become too time consuming, reserving short 15 to 20 minute time blocks on your calendar every morning or afternoon is also a good strategy to avoid unnecessary interruptions from team members throughout the day.
Maximize Your Digital Presence
In the quest to become more effective and efficient with time, maximizing your digital presence with clients and prospects is crucial as well and should be time blocked as a productive activity.
While a high touch service model is what all advisors aim for, you can't be face-to-face for all points of contact with clients. Build your online presence to create more digital touch points that also serve as part of your high-touch service commitment.
Blogging, creating short videos for your website and engaging on social media can be highly productive activities. Though they don't replace live client meetings, they are effective ways to demonstrate to your clients that they are top of mind.
The Bottom Line
You are not on an island if you feel like you lack control over your time every day. It may take awhile for you to move from reactive to proactive, but by creating a successful time management plan that works for you personally, you will be well on your way to proactivity. Remember, even small adjustments can really make a major impact to the efficiency of your day!
Finally, bear in mind, it is important to set times to reassess that your time management strategies are working. As your practice changes and evolves, your time management plan may need to evolve too.