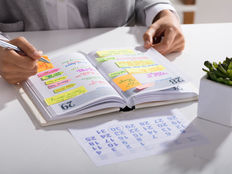 It's true. Practice makes perfect.
This isn't just an old adage that might still ring in your ears from your childhood years. It applies to meetings with your clients and prospects too.
Do you practice and prepare for your clients' meetings? If you don't, you definitely should!
While professional speakers, comedians and even actors may look like they speak off the cuff with ease, the truth is, they spend countless hours preparing and rehearsing before they ever hit that stage for the first time.
Why wouldn't you apply this same rigor to client meetings before your clients even enter your office?
Be sure to visit our Practice Management center for the most recent updates.
Preparation Is Key
Preparation truly is key to avoid blowing client meetings. Who wants to look bad in front of a client or prospect by being disorganized?
Stumbling over your words and looking unprepared in a client meeting can convey incompetence and have a detrimental effect on client relationships. In other words, not being prepared might lead a client to question your abilities and lead to client distrust.
---
Content continues below advertisement
Role-Playing
Contrary to what some might think, role-playing isn't just for rookie financial advisors. Even the most elite financial advisors stay sharp and continue to hone their sales skills by role-playing.
Just like how actors rehearse and memorize their lines over and over, role-playing ensures your confidence, as well as fine tuning your communication skills so you feel prepared and ready for your client and prospect meetings.
It is wise to consider role-playing specific client and prospect meetings scenarios, such as presenting your value proposition and what sets you apart from other financial advisors.
Other role-playing ideas may be handling specific client objections and closing the sale. Choose scenarios that your confidence may be wavering in. Try to anticipate the questions your clients and prospects might ask and rehearse your responses so you nail them in the live meeting.
You can practice alone, whether it is in a mirror or simply driving in your car. You can also role-play with other advisors or team members in your office. Other advisors in your office may want to sharpen their skills too. You can suggest forming a small group to consistently practice.
Meeting Checklists and Agendas
Another sure-fire way to practice and feel as prepared as possible is to always have meeting checklists and agendas. You should have organized pre-meeting checklists, a meeting agenda for every client meeting, as well as post meeting checklists that you and your team review.
Checklists might seem trivial or elementary, but they truly are a necessity in an industry that is as scrutinized and complex as financial services. Consider checking out the book The Checklist Manifesto by Atul Gawande. It reinforces how using checklists dramatically reduces your errors and, ultimately, strengthens your discipline.
In addition to checklists, agendas are yet another way to prepare for client meetings and to demonstrate you are organized to your clients and prospects. You and your team should review your agenda prior to the start of your meetings to be sure you are comfortable with the overall meeting flow.
Remember, well-written agendas not only keep you on track but also ensure that you cover all of the important subject matter during your allotted time.
You might also want to consider asking your clients if there are any items they would like to add or change to the agenda prior to the start of the meeting. This provides them with ownership of the meeting agenda. Giving your clients ownership of the agenda often minimizes potential client objections and helps you in closing the sale.
Worried about the hurdle of overcoming client objections? Read this to learn more on tackling this issue.
Active Listening and Powerful Questions
Active listening and asking powerful questions are two other extremely important skills to practice for your client meetings. While it is a very hard skill to master, your clients should be doing the lion's share of talking in every meeting.
The 80/20 rule always holds constant in client meetings. In short, your client should be doing 80% of the talking in any given meeting and you should only be doing 20%.
When you are role-playing, remember to practice the skill of genuinely listening as well as asking powerful open-ended questions. The more you can get your clients to open up and share with you, the better. Your clients will also feel like they are being heard, ultimately deepening your connection to them.
Check out this piece on building trust with clients and prospects.
The Bottom Line
Practice truly can make for perfect client meetings. Preparing for client and prospect meetings gives you the confidence and self-assurance to hit that proverbial stage.
The more you practice and prepare, the more likely you will crush it in your next client meeting!
Be sure to check out our News section to keep track of the latest news on ETFs.