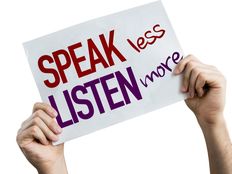 You have encountered it time and time again. Clients and prospects who pushback.
This tale is as old as time. Objections have been part of the sales process since the genesis of professional selling. One could probably conceivably argue that objections were even present during prehistoric times when bartering began.
Consequently, we can likely assume with certainty that this ever-present hurdle is not going to diminish anytime soon.
So, how on earth can you best handle objections with clients and prospects without frustration and negativity?
The secret may be as simple as to just listen.
Be sure to visit our Practice Management centre for the most recent updates.
Keep Your Ears Open and Mouth Closed
It sounds simple, but that may be easier said than done. Most sales professionals, including financial advisors, have a tendency to talk way more than they should in client meetings. Most financial advisors are passionate people and they should be!
However, they tend to want to pitch investment products and services more than they ought to, when in fact they should simply stop talking and listen more. That's right. Keep your ears open and mouth closed.
If you are talking, if you are honest with yourself, chances are high that you are not listening as much as you should. Strive to limit your talk time to about 30 percent of the conversation in your client meetings. In other words, in your average meeting, 70 percent of the time, your client or prospect should be the one doing the talking.
Check out our recent three must-read pieces here to learn more about better ways to get referrals and leverage centers of influence.
---
Content continues below advertisement
Be Genuine
When you are listening, be authentic. Make sure you are genuinely listening to what the client or prospect has to say. Your listening style should be empathetic.
Think about this for a minute. An objection from your client or prospect really is a tremendous opportunity to both identify and understand what he or she wants from you as their financial advisor. How's that for turning a perceived negative into a positive? Many financial advisors don't take full advantage of this opportunity. You can be the one that does this.
An answer of "no," "I need more time," or "I need to think about it," from your client or prospect provides you with a wide open door to have a meaningful discussion.
Focus on having a dialogue versus a monolog. Rather than immediately persuading the client or prospect and dismissing or combatting their objection, ask meaningful discovery questions to truly understand his or her apprehension and desired outcome. Stay positive, sincere and genuine. Do not get overly emotional, negative or discouraged.
Taking a defensive or argumentative approach will get you nowhere. After all, you cannot debate a client or prospect into believing that you are right and they are wrong. Plus, this can be dangerous territory.
Ask, Don't Tell
The old school sales approach typically doesn't work when handling objections. In other words, don't keep pushing for the "yes." Take an "ask" approach, not a "tell" approach. It is crucial to switch off your instinct to be the expert. Resist the temptation to talk.
Instead ask them powerful open-ended questions. Demonstrate genuine curiosity about exactly why they feel the way they do. Use that empathetic listening skill mentioned earlier.
Repeat back to them what you heard them say in order to exhibit empathetic listening. Empathetic listening or active listening is used simply to seek to understand. The goal is to achieve mutual understanding and to gain trust.
Also, be sure your body language is open and your non-verbal cues indicate you are truly genuinely listening. Maintain good eye contact and nod with affirmation that you are with them. Take notes to show that what they are saying is important to you.
Clients want to feel like they are being heard and understood. Let them tell you their story. You'll likely be amazed what you will uncover. It makes them feel good. It shows you care about their fears, thoughts and feelings, again, ultimately, building trust. This reinforces the value of having you as their financial advisor and the importance of working with you.
Not sure how to go about building trust with clients and prospects? Click here to learn more on this.
The Bottom Line
Listening is hands down the best tactic to overcome the age-old challenge of client and prospect objections.
Stay positive, hold your tongue and open up your ears. Focus on the opportunity in front of you to have meaningful conversations versus pushing for a "yes." Hearing "I need to think about it" just may be music to your ears. Let the dialog begin!
Be sure to check out our News section to keep track of the latest news on ETFs.