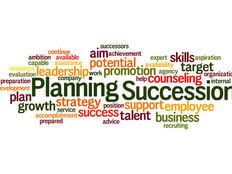 Tune out the negativity and gain clarity on your future to benefit your business and your clients.
Research from SEI Advisor Network indicates that only 32 percent of financial advisors have a succession plan and only 17 percent of advisors have an actual written plan that is a binding, actionable and signed agreement. In addition, only 45 percent of advisors have a business continuity plan in place that prepares their business for unforeseen circumstances, an unexpected departure or a leave of absence.
In other words: the majority of the financial advisor community, whose purpose and livelihood is planning for their clients' financial futures, is not taking the time to properly plan for the future of their own businesses.
Why Don't More Advisors Have a Succession Plan?
Financial advisors certainly know intuitively that not having a plan in place is a potential disservice to their clients, as advisors have a fiduciary responsibility to create a succession plan and continuity plan.
So why don't more advisors have a succession plan in place? Simply put, it's emotional for most advisors, not to mention stressful. The task can seem extremely daunting and overwhelming to some advisors, while other advisors may be procrastinating, or are so caught up in the day-to-day tasks and responsibilities of running a dynamic practice and managing client and prospect relationships that they become too busy and distracted to create a succession plan.
Many financial advisors also associate succession planning with retirement, and advisors don't necessarily want to let go and step away from the businesses that they have worked so hard to build. They may want to continue to work – perhaps not full-time, but they want to stay active and engaged in the business in some capacity.
Other advisors may be concerned that the valuations of their businesses are too low and their practices may not be worth as much as they had hoped for.
Perhaps there is too much negativity around the topic of succession planning and continuity planning in the industry.
---
Content continues below advertisement
The Business Benefits to Having a Succession Plan in Place
So why not shift perspective and focus on the positives, especially when it comes to the potential benefits to your business now? Not only does a bona fide written succession plan provide extreme peace of mind to you as an advisor, but it also provides security to your family, your staff and let's not forget your invaluable clients. It serves as a test to give you a feel for the overall health of your business, as well. It also provides an enduring vision for your business itself and can inspire your team, in particular your younger advisors and staff.
Having a succession plan and a continuity plan also gives advisors a marketing advantage. SEI Advisor Network indicates that advisors are now realizing both succession and continuity plans can actually become growth tools for their business. By planning for the future, financial advisors give themselves a competitive lead in the present marketplace.
It could be potentially damaging to an advisor's practice to build their business today without a clearly defined exit view in the future, no matter what age the advisor is.
Gaining Clarity on the Future
As an advisor, have you taken the time to visualize your own future? You spend your days creating retirement plans for your clients, but do you personally have clarity on what your own retirement will look like?
How do you want to spend your days in your future? Will you continue to work full-time? Will you take a step back and work part-time? Will you travel? Will you focus on hobbies? Will you spend more time with family? Will you spend time giving back and volunteering?
Heffington Consulting, LLC, based in Fort Collins, Colorado, has a financial advisor program called "Successful Succession" that takes the doom and gloom out of succession planning for advisors and puts great emphasis on the "success" of actually completing a written plan and the importance of visualizing the future. Once an advisor has a clear visualization of what they want their future to look like – and what owner Greg Heffington calls "emotional motivation" – they will be much more likely to finish a successful succession plan.
When advisors have a solid plan of what they want to do with their life once they've transitioned they will be much more prepared for the future mentally, as well as emotionally.
What's Most Important to You?
What factors are the most important to you when it comes to creating a plan for your succession? It's imperative to start by determining your individual priorities.
Who will your successor be? If you are an advisor interested in internal succession, as many advisors are, you likely want to start grooming internal candidates now. In order to prepare for this, first take the time to identify whom those candidates might be. Then identify what their current skill sets are. How can you groom them and develop them? What skill set do you want them to have that they still need to develop and enhance?
If you are a sole practitioner or are considering identifying an outside successor, talk to your industry peers and industry veterans about the successor you've identified or potential candidates. When identifying a successor, be sure to determine in what areas he or she can complement your current business. What areas may not be complementary? Create a list of very specific standards that are deal breakers for you. Interview potential successor clients and even consider doing some sort of survey to gain additional feedback on him or her.
Consider Objective Help
We've established this can be a daunting task. Do you think you need outside help? Consider hiring an objective outside consultant, advisor or coach who you can enlist help from. He or she can help hold you accountable, act as a sounding board and help you gain confidence in establishing your successor and developing your succession plan.
A third party who is not emotionally connected to your business can help you identify what is best for you and your family, as well as what is best for your clients.
Bottom Line
You must be the one to establish your vision for your future and communicate it to your clients. Creating a written succession plan will provide you with a feeling of great accomplishment, as well as send a strong and vibrant message that your business will be viable for many years to come.
By planning now, you will keep your existing clients assured, and attract new clients who can trust you. Without an actionable plan, you could risk the demise of the business you've worked so hard to build upon your retirement, or worse yet, in the event of the unforeseen. Don't delay!