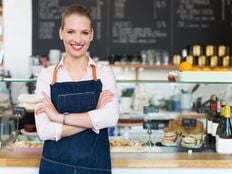 More than 11.6 million businesses are owned by women today. What's more, these women-owned businesses employ almost nine million people.
The facts don't lie. Women-owned businesses are growing at a truly astounding rate. Not only are they on the rise, but their sales are impressive too.
According to the National Association of Women Business Owners, women-owned businesses generated $1.7 trillion in sales, as of last year. In addition, one out of every five businesses with revenues of $1 million or more are owned by women.
Still need more convincing? Over the past two decades, the amount of women-owned businesses has grown 114 percent in comparison to the national growth rate of 44 percent for all businesses.
Be sure to visit our Practice Management centre for the most recent updates.
Where Can You Find Them?
Now that you are convinced, the question is: Where do you find women entrepreneur clients and prospects if you are not already working with them now?
Women Owned (womenownedlogo.com) is an initiative from the Women's Business Enterprise National Council (WBENC) and WEConnect International. It was created as a movement of support for female business owners and their companies.
Women Owned has an online directory of certified women-owned businesses and the products they sell. It is well worth your time to take a look at the directory.
In addition, they send out weekly emails that celebrate women-owned businesses. By signing up for the weekly newsletter, you will likely get great ideas to connect with the female business owners, as well as gain tremendous insight on their likes, challenges, lifestyles and habits.
Have you done any research on women-owned businesses in your market? Try doing an online search for your area. You will likely be amazed how many there are.
---
Content continues below advertisement
Her Circle of Trust
The old adage "Birds of a feather flock together" rings true for this market. There is no shortage of women's networking groups. Women business owners run in the same circles and fiercely support each other.
Chances are high that if you build a trusted relationship with a female business owner, you might be invited into her highly coveted circle of trust. You might also be promoted and referred among this professional circle of women.
Remember, women are not only more loyal clients, but they also refer more often than men. Research shows that she will even move with you if you change firms.
How Do They Communicate?
The same communication styles you use for female clients remain constant for female business owners.
A partnering approach works best for female business owners. She is the expert on her professional and personal life. She knows what she wants financially. Your job is to provide expertise on investment products and services. Together you can co-create financial solutions.
Always remember that the relationship comes first and you are on an equal playing field. There should be equal give and take in the relationship. Collaboration is key. Strong relationships with female business owners truly center around the important principle of partnership.
Still not sure how to deepen your relationships with female clients and prospects. Read this.
What Makes Them Successful?
So what makes female business owners so successful? Women reach their sales goals more often than men. Why? Women typically set goals that are more realistic and achievable.
Kevin O'Leary of ABC's "Shark Tank" says that the majority of his returns come from women-owned businesses. O'Leary also says that, in his portfolios, women hit their sales goals 95 percent of the time, while men only hit their sales goals 65 percent of the time.
This success also translates to their financial portfolios. Not only do women reach their sales goals more often, but female investors as a whole outperform men. They earn higher returns on their investments and take a longer-term view. They save more and they use a buy and hold strategy. All of these traits make for great clients.
What Business Challenges Do They Face?
With success also comes challenges. Seek to uncover and understand the business and financial challenges she faces.
A major hurdle for women-owned businesses is funding. Female business owners receive nearly 50 percent less in funding than male small business owners. Going along with this challenge, yet another obstacle is the lack of women represented in venture capital firms. Women represent only 11 percent of the decision makers at venture capital companies.
Since capital is likely a challenge, as well as growing revenue, use your expertise to help her to use her capital as efficiently as possible.
The Bottom Line
Women-owned businesses are growing at an astounding rate.
Women are breaking the proverbial glass ceiling with their entrepreneurial endeavors. It is a powerful market that you should consider partnering with if you have not done so already.
Don't forget to visit our News section for more updates from the ETF investing space.