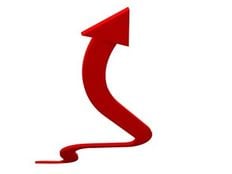 Making tactical allocations within your portfolios' bond competent in anticipation of changes in monetary policy could be a great way to preserve capital and beef up current income.
One type of monetary policy shift investors need to be aware of is what's often referred to as "tightening," or the raising of interest rates to curb inflation. When a central bank, such as the U.S. Federal Reserve, begins to raise rates, it initially can send a wave of panic throughout the market, as investors have grown accustomed to the monetary policy of the past and change is difficult; in periods like these, it's not uncommon for investors to make "smart" tweaks to their portfolios that are all too often based on wrong assumptions.
One way to alleviate some of the burden associated with adjusting your bond holdings in the face of rising rates is to take into consideration how various types of debt within the fixed-income world have performed historically in these periods.
Implications of Rising Interest Rates
The performance of different kinds of debt has varied from one period of rising interest rates to the next. Consider the following research from Nuveen Asset Management, which captures fixed-income returns across the last three periods of monetary tightening (as of 2015).
---
Content continues below advertisement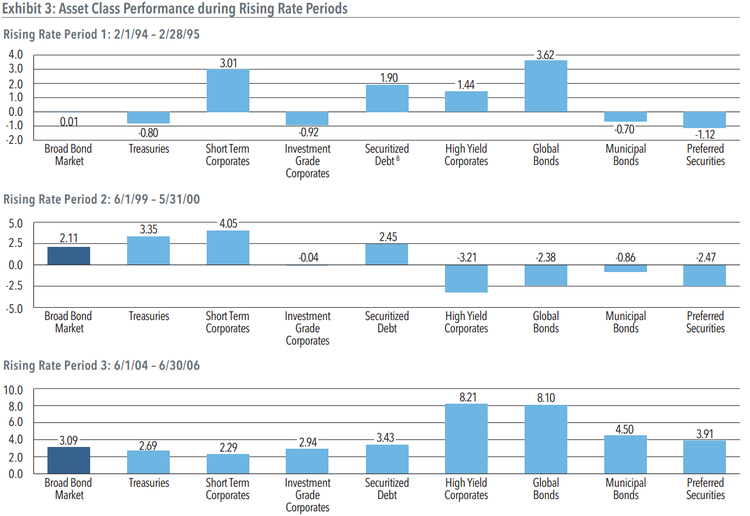 There's two important takeaways. First and foremost, the elementary assumption that bond prices simply collapse when rates rise is flat-out wrong; clearly, some types of debt are capable of generating very handsome returns – even by equity standards – during these seemingly unforgiving periods for bond investors.
Second, it highlights the importance of considering the unique circumstances of the economic environment at hand before simply relying on historical returns. Some of the more important factors to consider are:
Starting Interest Rate Level
The higher the starting interest rate level at the time policy tightening begins is critical to a bond's total return. As a rule of thumb, the higher the starting level, the bigger the cushion for your total return.
Speed and Magnitude of Hikes
The frequency and sheer magnitude of the rate hike is very important to consider. In general, if rates rise a lot over a very short period of time, it makes it difficult for the income component of a bond investment to compensate for the sudden drop in price.
Starting Credit Spread Levels
The credit spread is the difference in yield between a "risk free" Treasury bond and a bond with risk, such as an investment-grade corporate bond. If credit spreads are narrow when rates start going up, it leaves bond prices more susceptible to declines because the lower risk premium in the market suggests uncertainty.
How Steep Is the Yield Curve?
The steeper the yield curve, the more favorable the environment is for short-term bonds relative to longer-term dated ones. Likewise, in a flattening yield curve, long-term bonds are likely to see less of a negative price impact.
Be sure to read more about Yield Curve Implications for ETF Investors.
Sample Bond ETF Portfolios for Rising Rates
If you want some suggestions for how to tweak your portfolio, consider the following from Nuveen Asset Management based on your risk tolerance: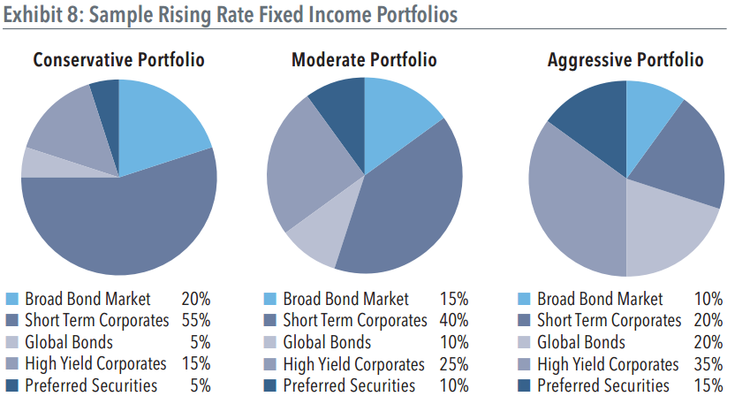 The Bottom Line
Remember that no two historical periods are alike, so what worked for investors in one instance when interest rates rose, might not work in the next one. The ultimate takeaway is to consider the economic environment at hand very closely, and use historical returns in conjunction with other analysis when formulating an investing strategy.
Follow me @SBojinov
Image courtesy of cooldesign at FreeDigitalPhotos.net