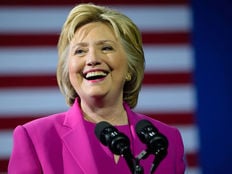 Giving our growing and aging population, investing in the healthcare sector remains a popular portfolio position for many people. Rising demand and costs have played directly in the profits – and share prices – of the stocks operating in the sector. However, despite the bullish trends of the sector, healthcare hasn't gone without a few hiccups.
And one of the biggest could be this upcoming Presidential election cycle.
Hillary Clinton and rival Donald Trump are completely different when it comes to healthcare policies, with Hillary making healthcare a main campaign platform. Given her strong stance, the sectors various healthcare exchange-traded funds (ETFs) will all be affected – and some in a few less-than-bullish ways.
Don't Forget HillaryCare
While President Obama gets much of the credit for launching the United States' healthcare reform bill, known as the Patient Protection and Affordable Care Act (ACA), Clinton should also get a nod. Before there was Obamacare, there was HillaryCare.
During her husband Bill Clinton's presidency, Hillary fought hard and helped drafted the Health Security Act. That bill was a major stepping stone towards providing universal healthcare for all Americans. Even though the bill was killed, several of the act's provisions ended up making their way into the ACA/Obamacare.
Since that time, Hillary has continued to push for major healthcare reforms and her campaign policies reflect that. Aside from vowing to keep the ACA in force, Hillary has looked to expand coverage under the bill. That includes allowing any state offering a Medicaid expansion to receive a 100% match from the federal government.
Hillary has also taken a hard stance on rising prescription drug prices. According to a new report by federal health agencies, prescription drug spending rose 12.6% back in 2014. The Fed's anticipate that drug costs will rise 7.3% a year, through 2018. That rate is substantially higher than rates of inflation, and puts many Americans at risk of not being able to afford their medication. Clinton has already vowed probes into many drug makers' pricing practices. Also on the pricing front, Hillary has embraced various generics and biosimilar drugs.
Finally, Clinton's policies include a healthy dose of helping the poor and expanding on other often-ignored health services. Expanded coverage for primary care of America's poorest citizens, as well as supporting mental health and women's healthcare, are all on her docket.
---
Content continues below advertisement
The Healthcare ETF Plays
The crux of her healthcare plan involves making sure the ACA stays in place and isn't vetoed/removed by rival lawmakers. If Hillary is successful, the continued rise in the number of insured citizens will undoubtedly benefit insurance stocks. We've already seen that effect since the ACA's inspection.
| Ticker | Name | Issuer | ETFdb Category | Expense Ratio |
| --- | --- | --- | --- | --- |
| (IHF ) | iShares U.S. Healthcare Providers ETF | iShares | Healthcare & Biotech Equities | 0.44% |
| (XBI ) | SPDR S&P Biotech ETF | State Street | Healthcare & Biotech Equities | 0.35% |
| (LABD ) | Direxion Daily S&P Biotech Bear 3x Shares | Direxion | Inverse Equities | 0.95% |
| (GNRX ) | VanEck Vectors Generic Drugs ETF | VanEck Global | Healthcare & Biotech Equities | 0.65% |
| (VHT ) | Vanguard Healthcare ETF | Vanguard | Healthcare & Biotech Equities | 0.12% |
This will benefit the $600 million iShares U.S. Healthcare Providers ETF (IHF A-). IHF tracks the Dow Jones U.S. Select Healthcare Providers Index – basically the 'who's who' of healthcare insurance stocks, as well as hospital administrators, laboratory outsourcing firms and other health services firms. While insurance companies like to complain about Obamacare losses on the private side, the bulk of their revenues actually come from Medicare/Medicaid. Both those roles have been expanded in the wake of the ACA. IHF charges just 0.44% in expenses.
However, for healthcare investors, Clinton's policies on drug prices could spell trouble for the SPDR S&P Biotech ETF (XBI A). Rising biotech drug costs are one of the reasons why prescription drug expenses for many Americans have gone up, and more recently, several biotech firms have come under pressure for their pricing practices. XBI tracks a basket of the largest biotech stocks and equal weights them. This means the 'problem children' could affect the index as much as the good eggs. That could make the ETF a strong sell if Clinton is elected and her policies are enacted. Investors looking to take that one-step further and bet on a biotech decline could use the leveraged inverse Direxion Daily S&P Biotech Bear 3x Shares (LABD B). The ETF effectively shorts the XBI with some leverage.
If biotechs are going to lose, then generic drug manufacturers could soar under a Clinton Presidency, as they get more business from Medicare/Medicaid and other health plans. The VanEck Vectors Generic Drugs ETF (GNRX ) hones in on that opportunity. It follows 79 of the largest global firms dedicated to the manufacturer of generics and biosimilars. While the fund has struggled to gain assets, a Clinton win could propel the ETF forward and gain enough recognition to make it a valid product.
The Bottom Line
When it comes to healthcare policy, Hillary Clinton kind of wrote the book on today's modern reforms in America. Her policies will go towards strengthening the ACA and expanding its coverage. This means aggressive pricing policies will help to keep the lid on rising drug costs. Under that scenario, there will be a split between the winners and the losers of the healthcare sector, which will be reflected in the stocks and ETFs that track healthcare. In the end, a broad ETF like the Vanguard Healthcare ETF (VHT A+) could be an investor's best bet under Clinton.