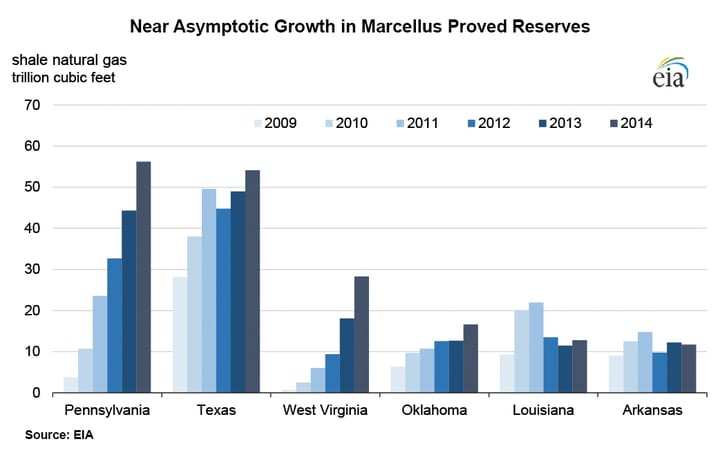 The Marcellus spans two states: Pennsylvania and West Virginia, while Texas encompasses the Barnett, Eagle Ford, Haynesville (shared with Louisiana), and the Woodford (shared with Oklahoma). Viewing the total reserves by basin, not by state, really shows how dominant the Marcellus opportunity has become.
---
Content continues below advertisement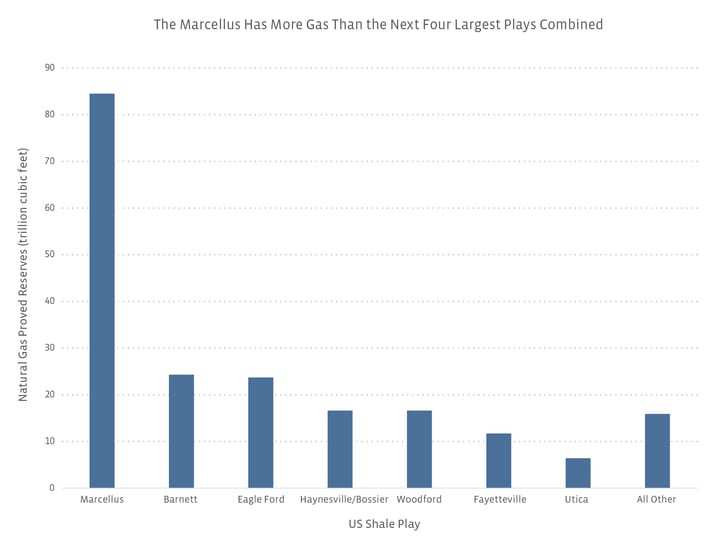 Reserves don't mean a thing if you can't get it out of the ground, though. Weather in the Northeast may be harsher than in Texas, but the Marcellus is nonetheless prolific: it produces 17.8 billion cubic feet/day (bcf/d) of natural gas. For comparison, the Permian is the next most prolific natural gas producing basin at 6.8 bcf/d. While production per well or cost per mcf would be the best comparison, that data is not easily available as it is often considered proprietary. However, production per rig is available and shown below. The Marcellus has a fraction of the Permian's rigs and nearly triple the production. (Please note: the Permian is known in the industry for its oil production, not its natural gas. It very likely has so many more rigs due to oil drilling. However, it is still the closest to the Marcellus in terms of natural gas production.)

+++++++++
The Marcellus is the best natural gas play on American soil, but with a worldwide perspective, the Marcellus is a bit magic precisely because the opportunity does occur on American soil. The hydrocarbons do not belong to the state or to the citizens of America. Unlike Alaska, it is not frozen, and unlike the deepwater Gulf, it is not under an ocean. Perhaps best of all: the Marcellus is located right next to the major demand areas of New York City, Boston, Philadelphia, and Washington DC.
The Permian basin should not be discounted just because it's been an (oil-family) household name for decades or because the Marcellus produces more gas. While the Permian does produce significant amounts of natural gas as mentioned above, the Permian produces more oil than any other region in the US. More impressively, it has been doing so for decades. It seems like every time a new recovery method is invented, more oil comes out of the Permian. Presenters gave approximately equal time, if not more, to the Permian as they did to the Marcellus. The Bakken, while also an oily basin, was rarely mentioned.
Unconventional Plays Are Still Rare (In the Rest of the World, At Least)
US midstream companies (especially MLPs) have been serving shale plays for the past five or ten years. Processing, transporting, and storing these hydrocarbons has become old hat. Worldwide, though, 93 (or ~96%) of the total 97 million barrels per day produced still comes from conventional plays. However, the majority of the growth and new discoveries are coming from unconventional plays. While North America has the majority of shale discoveries, China, Argentina, and Algeria also have large reserves.
New Applications of Still-Fresh Technologies
Again, fracking has been so commonplace in the media that it's easy to forget that there is in fact only a small subset of people worldwide who know how to horizontally drill and frack a well. Even the majors are still figuring it out. The production opportunity using these still-new technologies remains vast, especially when viewed worldwide.
As an example: instead of a single horizontal and fracked well, two of them can now be drilled in parallel. The first will be fracked without releasing the pressure (aka, keep everything in the ground for now). When the second is fracked, it reverberates and essentially provides a secondary frack for the first well. The combined production of both wells is higher than if they had been produced individually.
Still, as one presenter said, they best place to find oil is on the oil tree. Just as horizontal drilling and fracking has produced the best results in areas where vertical wells previously produced the best results, now producers are going back and refracking wells. By setting new frack stages in between old frack stages, even more oil and gas can be extracted. (This is similar to how traditional secondary and tertiary recovery methods are applied.)
Overall, it's easy to be cynical: every presenting company has either divested near-worthless assets for staggering amounts of money, or bought top-tier assets for a song. (Noncynical interpretation: think of what the game of Monopoly taught us: sometimes a swap of properties makes more sense so everyone can get a monopoly.) Still, everyone's type curve is world class, and everyone has a breakeven price below peers. (Noncynical interpretation: all of the companies that aren't world class just weren't invited to speak.) Regardless of the interpretation, companies, like people on social media, put their best foot forward and it is a (nerdy) delight to see everyone's highlight reel.