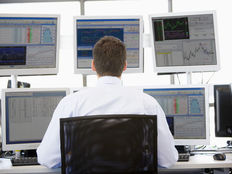 Equity markets have hit several bumps this year, with last week seeing some of the biggest declines on Wall Street in months.
Today, the first quarter of 2015 officially ended, and with
GDP
results slated to be reported in a few weeks, analysts have already voiced concerns over economic growth in Q1.
Economists Lower Q1 Forecasts
U.S. economic reports have been somewhat mixed this quarter, though overall the data seems to be pointing toward a growing (albeit slowly) domestic economy. In her press conference on March 18, Federal Reserve Chairwoman Janet Yellen noted several bright spots in the economy, including labor market growth and restrained inflation. For economic growth, however, Yellen announced that FOMC members have reduced their projections since December, with many citing a weaker outlook for net exports. For 2015 and 2016, the Fed believes the economy will grow from 2.3% to 2.7%.
Quarterly projections, however, continued to trend lower for the U.S. economy. Earlier this month, the Federal Reserve Bank of Atlanta released its GDPNow model forecast for real GDP growth (seasonally adjusted annual rate) in the first quarter of 2015, which came in at a bleak 0.2%.
The chart below shows the changes in the Atlanta Fed's Q1 GDP forecasts versus Blue Chip consensus:
---
Content continues below advertisement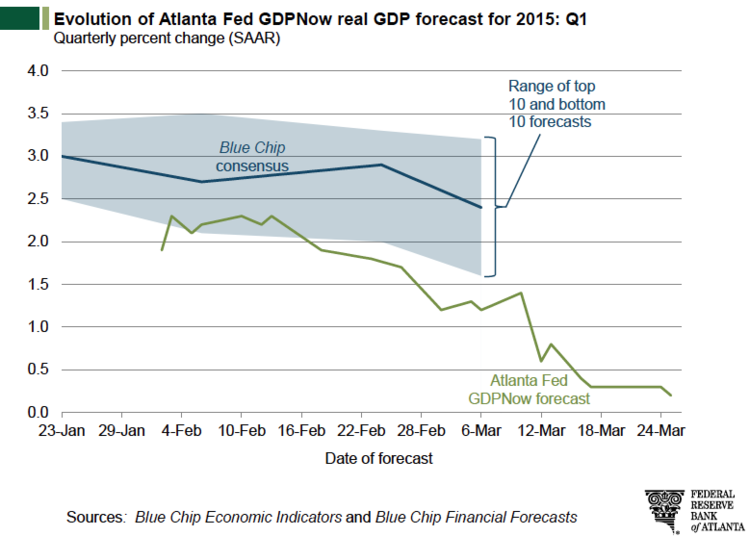 In addition to the Atlanta Fed, other economists have also lowered forecasts, though not as drastically:
Morgan Stanley lowered its Q1

GDP

estimate from an annualized 1.2% to 0.9%
Barclays lowered forecasts from 1.3% to 1.2%
JP Morgan lowered its estimate from 2.0% to 1.5%
Goldman lowered its forecast from 1.4% to 1.2%
Moody's Analytics slashed its estimate from 1.1% to 0.6%
Macroeconomic Advisors lowered its forecast from 1.5% to 1.2%
For some perspective, Q1 GDP in 2014 came in at an annualized -2.1%; the remaining quarters however saw positive growth.
A Moderate Outlook
While estimates for GDP growth for the first quarter are quite unimpressive, economists are somewhat optimistic for a bounce back in the second quarter. Wall Street consensus estimates for Q2 GDP to come in between 2.4% and 3.9%, or an average estimate of 3.5% growth.
Some analysts have stated that Q1's performance will likely be reminiscent of last years, when weather drove the GDP figure into negative territory. That being said, Q2 is expected to see stronger growth as it did in the previous year.
In the next quarter, there will be several key economic issues to keep track of, including a sluggish housing recovery, weak wage growth, a strengthening dollar, low oil prices, monetary policy changes (both in and outside the U.S.), as well as looming geo-political tensions in the Middle East and Ukraine.
U.S. Q1 Advance GDP is slated to be reported on April 29 at 8:30 AM.
Follow me on Twitter @DPylypczak.
Disclosure: No positions at time of writing.