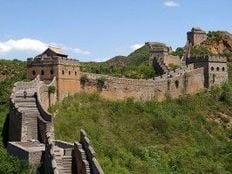 With Q1 behind us, investors have witnessed equity markets struggle to find a definitive direction. Two Chinese Equities funds, however, have managed to log in impressive year-to-date returns.
CNXT and ASHS Record Double-Digit Gains
Both the Market Vectors ChinaAMC SME-ChiNext ETF (CNXT C) and the db X-trackers Harvest CSI 500 China-A Shares Small Cap Fund (ASHS B-) focus on small capitalization companies domiciled in China. CNXT is comprised of over 100 small to mid cap stocks trading on the Small and Medium Enterprise (SME) Board and the ChiNext Board of the Shenzhen Stock Exchange, while ASHS tracks 500 small cap stocks listed on the Shanghai and Shenzhen stock exchanges. It is important to note that both of these funds invest directly in A-shares.
Year-to-date, these two funds have significantly outperformed the broader market (as represented by SPY), and their large-cap counterparts such as the FTSE China Large-Cap ETF (FXI A).
---
Content continues below advertisement
YTD, CNXT is up over 60%, while ASHS is up nearly 48%. In comparison, FXI – which tracks the 50 largest companies in China – has gained just over 11%. The U.S. equity market (SPY A), however, has only managed to eke out a 1.4% gain.
CNXT is a relatively new fund, making its debut in July of 2014. Since inception, however, the fund has gained more than 88% and has accumulated over $47 million in total assets under management.
ASHS also launched last year, and since has gained over 115% and has witnessed net inflows of approximately $47 million. It should also be noted that ASHS's large-cap counterpart the db X-trackers Harvest CSI 300 China A-Shares Fund (ASHR B+) is up about 17% year-to-date.
The Bottom Line: An Uncertain Outlook for Chinese Equities
While economists are still projecting China to grow at more than 6% this year, there are some significant headwinds for the emerging market. Some of these issues include disinflationary pressures, waning demand for commodities, and the country's weakening manufacturing sector. For those still wanting to tap into Chinese equities, we encourage you to avoid funds with with heavy allocations to the basic materials sector. Chinese technology firms, which are represented in both CNXT and ASHS, have continuously bucked the trend, posting higher returns than the broad Chinese equity market.
Follow me on Twitter @DPylypczak.
Disclosure: No positions at time of writing.