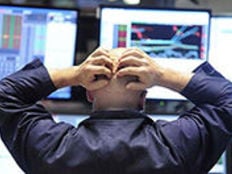 Emerging Markets Bond ETFs have always been a popular choice for investors looking to diversify the fixed income portion of their portfolios. In recent months, however, we've witnessed a significant divergence amongst these products.
U.S. Dollar vs. Local Currency Denominated Options
Emerging markets bond ETFs can offer investors exposure to two different types of debt: one that is denominated in local currency, and another that is U.S. dollar denominated. Take for example two popular iShares ETFs: the J.P. Morgan USD Emerging Markets Bond ETF (EMB A-) and the Emerging Markets Local Currency Bond ETF (LEMB A-).
These two funds both target government bonds issued by emerging market countries. LEMB and EMB have roughly the same size portfolio, consisting of over 200 securities. The main difference between these two funds, besides the slightly different country allocations, is that EMB invests in only U.S-dollar denominated bonds while LEMB invests in local currency denominated bonds.
When the U.S. dollar is not exhibiting any significant fluctuations, these two funds typically perform in line with each other. But with the U.S dollar's rally over the last year or so, the performance of EMB and LEMB have differed significantly.
---
Content continues below advertisement
1-Year Performance: EMB vs LEMB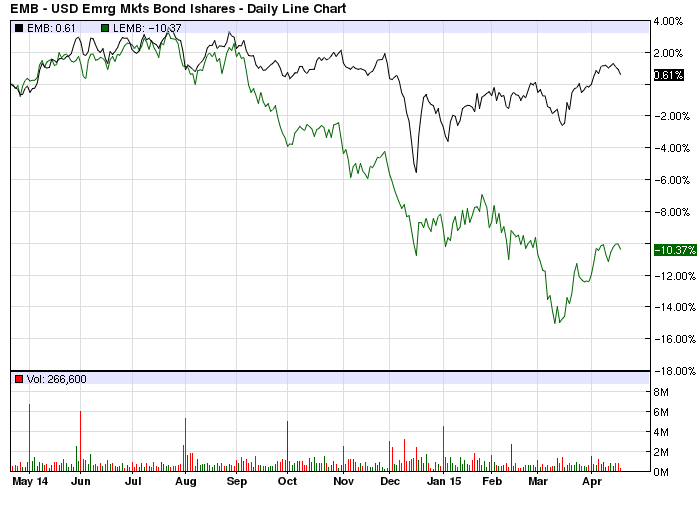 Over the trailing 1-year period, LEMB has taken a steep hit, losing over 10%, while EMB has managed to eke out a gain of about 0.60%. As mentioned, the main driver for this divergence has been the strength of the U.S. dollar. Illustrating this point is the below chart of the Dreyfus Emerging Currency Fund (CEW A), which tracks fluctuations across a basket of emerging market currencies relative to the U.S. dollar: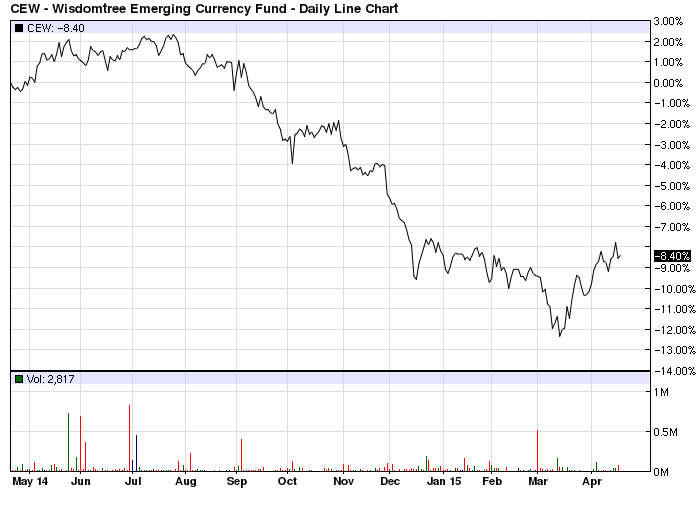 Not surprising, investors' risk appetites for local-currency denominated emerging market debt has waned significantly. From April of 2014 to April of 2015, LEMB only saw net flows of $99 million in assets, while EMB managed to rake in roughly $466 million in assets during the same period.
The same trend can be seen in emerging market equities, with investors opting for currency-hedged products.
Putting It All Into Perspective
While on paper EMB seems to be a clear-cut "winner", it is important to realize that the fund's performance relies greatly on the fact that its underlying holdings are directly linked to the performance of the U.S dollar. Furthermore, emerging markets as a whole have struggled to gain ground over the last year or so, primarily due to the fact that the U.S. dollar has risen so much.
Remember that those countries with U.S. dollar denominated debt are running into major problems keeping up with the U.S. dollar's pace, since payments on that dollar debt continue to become more and more expensive.
Another key relationship investors must understand is the one between the U.S. dollar, commodity prices, and emerging markets. When the greenback rises, commodity prices tend to fall, since a strong dollar causes buyers to pay more for the U.S. dollars used to buy commodities (which are typically priced in U.S. dollars). Consequently, falling commodity prices have significant impacts on many emerging markets, since commodity exports make up a large portion of these economies' GDPs.
Last but certainly not least, investors have already begun making the shift away from emerging market – and even foreign fixed income securities – towards the U.S. in anticipation of a rate hike by the Fed. U.S. government bonds, which have historically been an investor staple, have yielded next to nothing for investors. A slight uptick in interest rates combined with the U.S.'s top-notch credit quality will once again make these bonds more attractive for those investors tired of hunting for yield in the junk bond space.
As always, we encourage you to keep a close eye on these market and macroeconomic trends.
Follow me on Twitter @DPylypczak.
Disclosure: No positions at time of writing.