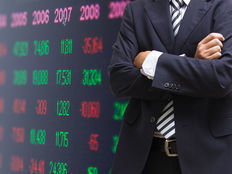 To help investors keep up with the markets, we present our ETF Scorecard. The Scorecard takes a step back and looks at how various asset classes across the globe are performing.
The beginning of the week started off on a sour note; dubbed "Black Monday," global markets sold off steeply, with the Dow dropping to an 18-month low, shedding more than 1,000 points briefly during the session. But as global worries began to abate, equities managed to close out Thursday on a high note, bolstered by better-than-expected data and positive commentary from Jackson Hole.
For more ETF news and analysis subscribe to our free newsletter.
Risk Appetite Review
U.S. equity markets were hit hard this week, though stocks managed to rebound towards the end of the week. Surprisingly, the Low-Volatility ETF was the worst performer of the bunch, while the High-Beta was the "best" performer.
---
Content continues below advertisement
Major Index Review
Across the board, major global indexes were down for the week, with the exception of the Emerging Markets fund. On the month, every major index is in the red.
Foreign Equity Review
Single country ETFs did not fare much better this week, with the UK ETF (EWU A-) posting the biggest decline at 3.45%. Only two ETFs managed to post gains: Russia and Germany. Over the trailing one-month period, however, Brazil continues to be the worst performer, shedding 7.34%.
Commodities Review
Metals fell to the bottom of the barrel this week, with silver shedding 6.70%. Oil was the best performer on the week, after WTI broke through the $40/barrel mark. On the month, oil continues to be the worst performer.
Currency Review
The U.S. dollar fell once again this week, shedding 0.12%. The yen was this week's top performer, gaining 2.02%. Over the trailing one-month period, emerging-market currencies continue to decline.
For more ETF analysis, make sure to sign up for our free ETF newsletter.
Disclosure: No positions at time of writing.