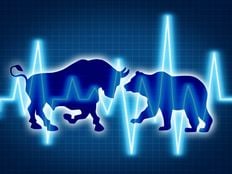 To help investors keep up with the markets, we present our ETF Scorecard. The Scorecard takes a step back and looks at how various asset classes across the globe are performing. The weekly performance is from last Friday's open to this week's Thursday close.
U.S. markets are down for the week.
Most major foreign markets, including developed and emerging markets, are in the red this week.
During the

FOMC

meeting minutes this Wednesday the tone was more hawkish than expected. The Fed implied that a rate hike was a real possibility this coming June. This pushed markets down and the U.S. dollar higher.
The leading economic indicator, the Philly Fed Manufacturing Index, had a disappointing figure of -1.8 vs. the expected 3.0 on Thursday's release. A reading below 0.0 indicates worsening economic conditions in Philadelphia.
The preliminary UoM Consumer Sentiment figure was better than expected, as reported last Friday. The figure stood at 95.8 vs. the consensus of 89.7.
U.S. crude oil inventories increased 1.3 million barrels, which was more than the expected decrease of 3.1 million barrels.
The G7 meetings have began on Thursday this week in Sendai, Japan. The countries in the G7 are the U.S., Canada, France, Germany, Italy, Japan and the U.K.
For more ETF news and analysis, subscribe to our free newsletter.
Risk Appetite Review
The overall market as measured by the S&P 500

ETF

(

SPY

) was down with a nearly 1% drop this week.
The low volatility

ETF

(

SPLV

) was the worst performer out of the bunch, with a 2.18% loss for the week.
The high-beta

ETF

(

SPHB

) is the only one in the green out of the group, with a 0.76% increase.
---
Content continues below advertisement
Major Index Review
All major indexes are down for the week and rolling month.
The Emerging Markets

ETF

(

EEM

) is the worst performer for the week and the rolling month, with a 2.12% and 9.07% loss, respectively.
The iShares

MSCI

EAFE

ETF

(

EFA

) decreased the least this week, with only a 0.47% drop.
Whereas, the S&P 500 (

SPY

) decreased the least for the rolling month, with a 2.64% decrease.
Foreign Equity Review
Commodities Review
All commodities are down for the week, except for oil (

USO

), which continues its rally this week with a 3.88% gain. It's also the best performing major commodity in the rolling month, up 15.02%.
Silver (

SLV

) is the worst performing major commodity this week, down 3.03%.
Copper (

JJC

) had the worst performance for the rolling month out of the major commodities, with the

ETF

declining 6.36%.
Currency Review
For more ETF analysis, make sure to sign up for our free ETF newsletter.
Disclosure: No positions at time of writing.