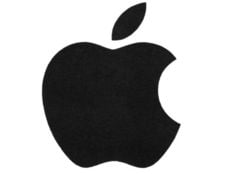 The former Wall Street sweetheart is back in the spotlight after the latest iPhone 7 release, and some tech ETFs are enjoying the Apple rally more than others.
Apple (Hype) Is Back!
Apple's (AAPL) push & pull effect on cap-weighted ETFs, because of its massive size, has been the subject of plenty of commentary throughout the company's growth phase. While the company hasn't been much in the news lately, likely due to the stock slumping since mid-2015, the recent iPhone 7 release seems to have brought the stock back to life. While the device came under ample criticism initially due to Apple's decision to get rid of the earphone jack and push forth with wireless tech instead, pre-orders proved the critics wrong soon enough.
Consider the returns comparison below, which shows Apple vs. the S&P 500 ETF (SPY A) and Nasdaq ETF (QQQ B+) over the past 2 months:
---
Content continues below advertisement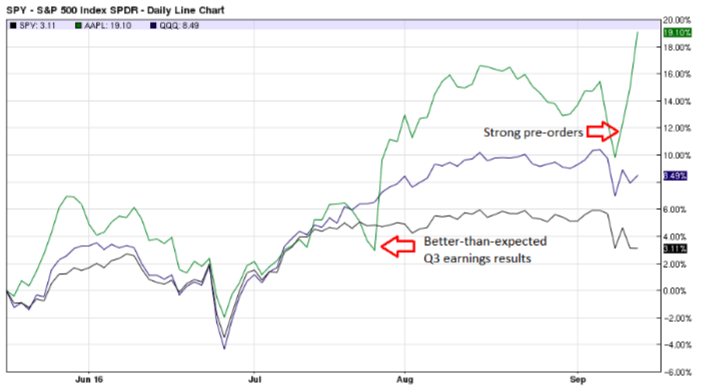 AAPL had been, for the most part, trading in line with the broader market (and even lagging it over a longer time frame) until posting surprisingly upbeat Q3 results. This earnings beat not only launched the stock higher, but was also powerful enough to pull the tech-heavy QQQ along with it.
The next jump came after the iPhone 7 release. News of very strong pre-order numbers from T-Mobile and Sprint customers on 9/13/16 sent AAPL higher, while the rest of the market struggled that day. The rally continued the following day when traders caught whiff of an AT&T executive commenting on strong iPhone pre-order numbers.
Examining the AAPL Rally With an ETF Lens
The chart above showcased Apple's recent outperformance, while the table below is meant to illustrate the stock's influence across a variety of technology ETFs, with each one affording a different allocation to the behemoth (trailing returns as of 9/14/2014):
| Ticker | Name | Allocation to AAPL | Pre-Order Rally (9/12-14) | 1-Month Return | 1-Year Return |
| --- | --- | --- | --- | --- | --- |
| (IYW ) | iShares U.S. Technology ETF | 16.18% | 1.71% | -0.11% | 14.67% |
| (XLK ) | Technology Select Sector SPDR Fund | 13.56% | 1.40% | -0.64% | 15.68% |
| (QQQ ) | PowerShares QQQ ETF | 10.80% | 1.37% | -1.15% | 9.73% |
| (RYT ) | Guggenheim S&P 500 Equal Weight Technology ETF | 1.54% | 0.36% | 0.36% | 16.85% |
| (QQEW ) | First Trust NASDAQ-100 Equal Weighted Index Fund | 1.06% | 0.59% | -1.55% | 6.16% |
The table should be read left to right, starting with the Pre-Order Rally. Because there are countless factors that can impact ETF prices, your best odds of trying to gauge the impact of any one name (without any fancy work) is to zoom in.
For instance, the broad market was trading sideways and lower on 9/12, while Apple was surging; this sign of relative strength can alert you to check its impact on ETFs which hold the security. You should expect to see those that afford a greater weight to the said security move more closely with it than those that afford a lesser weight. Those that afford the greatest weight, in this case, are market cap-weighted, while those that afford the least are equal-weighted counterparts.
What's worth noting from the table is how quickly the "visibility" of Apple's pull on tech ETFs fades over time. Notice how the AAPL-heavy ETFs like IYW and XLK clearly outperformed their peers in the span of the pre-order rally; again, this is simply because the stock had an outsized gain vs. the rest of the tech sector those days.
This effect becomes much more difficult to track over time. Notice how the 1-month and 1-year returns don't show the same degree of correlation with Apple weight as seen over the very short time frame. If Apple's outperformance persists however, the tailwind to AAPL-heavy ETFs will likely carry over into the longer time frame returns.
Ways to Play
Because of its sheer size, Apple makes its way into most broad-based – as well as tech-focused – ETF portfolios. Investors can access it through the following:
You can also see which ETFs afford the greatest (or least) weight to Apple, or any other stock for that matter, using the free stock exposure tool.
The Bottom Line
ETFs are diversified by nature, but some might carry more stock-specific risk than others. In the example above, a mega-cap name like Apple can have an outsized influence on some ETFs more than others due to their weighting methodologies. Keep an eye on your fund's weighting approach and top holdings, as an overblown allocation to a single security could leave you more exposed than originally planned.
Follow me @SBojinov
Disclosure: Long AAPL.