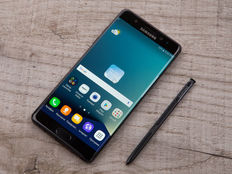 ETFdb.com analyzes the search patterns of our visitors each week. By sharing these trends with our readers, we hope to provide insights into what the financial world is concerned about and how to position your portfolio.
After two weeks in which the British pound grabbed the headlines, investors have finally moved away from Albion's issues and turned their attention to other developments in the financial markets. The death of the King of Thailand made the country an unlikely leader in our top trending list, and copper came in second on weak Chinese data. Samsung Electronics, meanwhile, has been receiving "free" publicity because of the issues with its Galaxy Note 7, which have the "innovative feature" of exploding. Inverse equity and biotech stocks are at the bottom of the list, as investors were on the lookout for short opportunities.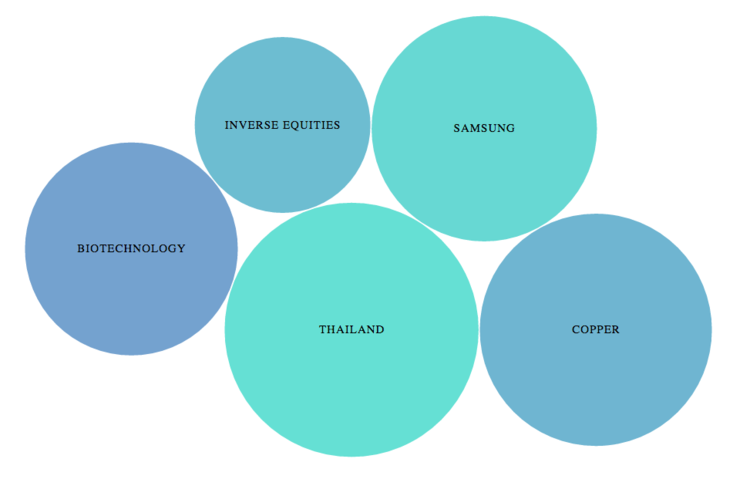 ---
Content continues below advertisement
Thailand: King's Death Spurs Fears of Uncertainty
Perhaps it's rare in the modern era for the death of a single person to cause so much uncertainty, even if it's a king. But Thailand is facing exactly that issue, after its beloved Bhumibol Adulyadej passed away recently. The news sparked tremendous interest in Thailand's ETFs, with the country seeing its traffic spike 724% over the past week. Although the sole ETF that tracks the country, iShares MSCI Thailand (THD C+), fell abruptly following the news by about 7%, it has recovered some of the losses and is now up 23% year-to-date.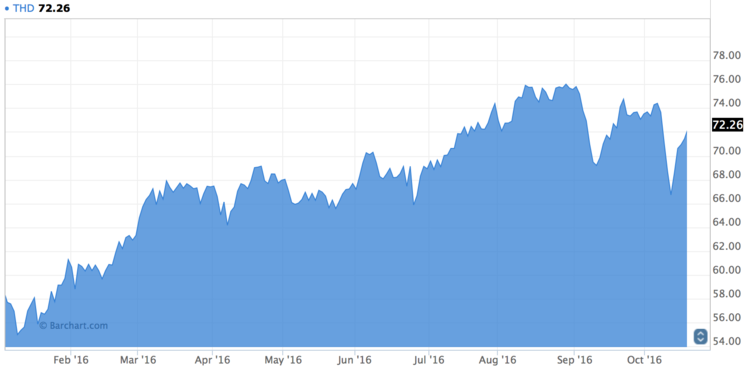 The King's loss could have serious political and economic consequences on a country that has been plagued by divisions and conflicts, as many opportunistic parties in the military and the government will fight to seize power. The Crown Prince is unloved in Thailand, so he is unlikely to be the unifying figure that his father was. Analysts covering the country believe that behind the scenes there are more than a few figures with their own networks, which could cause instability and lead to conflict. Investors are cautious about plowing money into the country, as shown by a stunning 90% drop in foreign direct investments in the first six months of the year.
The economy has already been sputtering with a growth of just 2.8% in 2015 compared with 6.5% in 2012, largely because of a slowing Chinese demand. This year, the economy is expected to grow by about 3%, as the government has increased spending on infrastructure. One bright spot for Thailand is perhaps the tourism industry, which is not expected to suffer from the King's death unless a serious military conflict breaks out.
Readers willing to check ETFs with exposure to other countries could visit utilize ETFdb's Country Exposure Tool provided by ETFdb.com.
Copper Prices Fall in Light of Weak Chinese Data
Copper has been trading lower over the past five days, as industrial production in China missed forecasts. The metal's traffic has increased as much as 93% over the past week, taking the second spot on our list. Over the past five days, the main ETF tracking copper, iPath Bloomberg Copper Subindex Total Return (JJC A), has dropped about 1.4%, extending year-to-date losses to 3.8%.
China's GDP increased by 6.7% in the third quarter, unchanged from the previous period, but industrial production grew by just 6.1% in September versus estimates of 6.4%. In addition, demand for metals is expected to be lower than expected, as the country steadily moves away from growth driven by industrial investments to a consumption-led economy. But copper also got some good news – on Wednesday, BHP Billiton put under review its guidance for 2017 production, citing potential output disruptions from its Olympic Dam mine.
Commodities have been popular among our readers over the past period. Last Wednesday, gold and natural gas were trending, while a week earlier oil and gas ETFs had been in the spotlight. For a complete list of commodity ETFs, readers should click here.
Will the Galaxy Note 7 Recall Crisis Hurt Samsung's Dominance
The last couple of months have been a nightmare for Samsung (SSNLF) as it struggled to shrug off the "bursting" Galaxy Note 7 issue. After several investigations and a sizeable 1 million replacements, the Korean company threw in the towel and announced it would permanently halt the production of the troublesome device. The news surrounding the Galaxy maker has attracted a 52% increase in traffic, proving that investors are still worried about the company's ability to recover from its greatest quandary yet.
What started as a mere battery problem, to which Samsung rapidly responded with a 2.5 million global recall, soon developed into a massive headache for the tech giant as reports of the Note 7 catching fire kept rolling in. Now customers are given "fire-proof boxes" and instructions on how the devices should be returned. Samsung's reputation has suffered, and the fact that one of their flagship products caused such a mess will undoubtedly affect the company's credibility in an increasingly competitive market. Subsequently, Samsung revised its operating profit downwards by 33.3% and slashed its third-quarter sales estimate by 4%.
Despite all this, investors are still confident in the company's prospects as one of the best ETFs tracking Samsung, the iShares MSCI South Korea Capped ETF (EWY B) has suffered a minor decline this autumn. With an exposure of 21.15% to the Korean tech company, the ETF has witnessed short drawbacks, but has risen 14.5% year-to-date.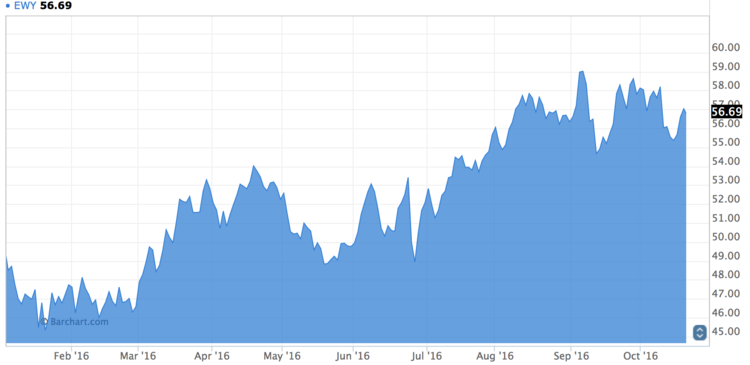 Separate companies rarely trend on ETFdb.com, but when they do it's usually for something notable. ETFdb's Stock Exposure Tool helps investors find the ETFs exposed to selected stocks.
Inverse Equities: A Rate Hike and a Rising Dollar Could Lead to a Pullback
Inverse ETFs have taken fourth spot on our list with 37% increase in traffic, in a sign readers are looking for ways to hedge in case of a market downturn. The ProShares Short S&P500 (SH A+) has had a terrible performance year-to-date, dropping nearly 8%, but the bull market may run out of steam.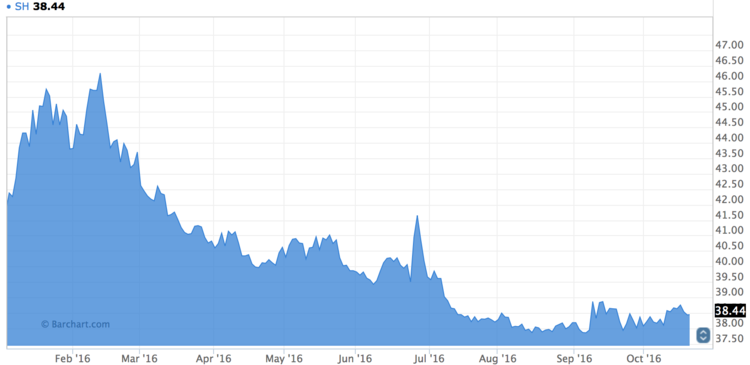 Indeed, there could be several reasons for investors to hedge themselves against a market correction, including an imminent rate hike, a stronger dollar and stretched valuations. The outcome of the upcoming U.S. election could also introduce a degree of uncertainty and negatively influence the stock prices. As a counterbalance, corporate earnings season has just started, and some companies reported improving results. Goldman Sachs (GS), for example, reported a 47% rise in earnings. For more information on how to hedge your portfolio with Inverse ETFs, take a look at How to Use Inverse ETFs to Hedge Your Portfolio.
Biotechnology: Fearing a Clinton Presidency
Biotechnology stocks have had a bad year so far and may continue their downward slide if Hillary Clinton emerges as a winner in the upcoming presidential elections. The biotechnology stocks have seen their traffic increase by 33% over the past week, as many of these ETFs have underperformed. iShares Nasdaq Biotechnology (IBB A-), for example, has dropped 1.5% over the past five days, extending year-to-date performance to as much as 20.6%. SPDR S&P Biotech (XBI A), on the other hand, has tumbled 4.3% in the past week, but is down just 15.6% since the beginning of the year.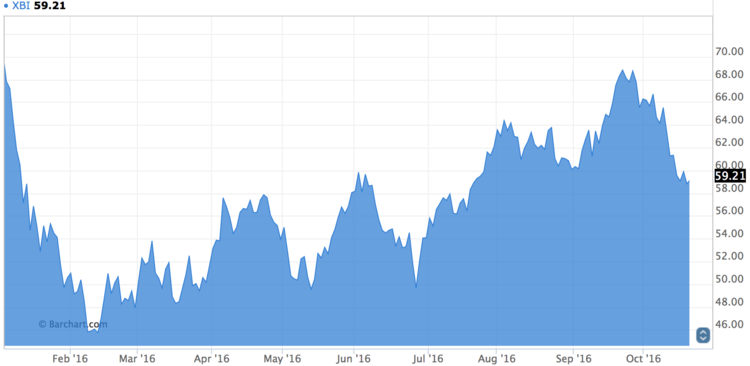 IBB's expense ratio at 0.48% is higher than that of XBI at 0.35%, but IBB is almost three times larger with $7 billion in net assets. This analysis has been done with the help of ETFdb.com's head-to-head comparison tool.
Presidential candidate Hillary Clinton has repeatedly signaled her intention to crack down on pharmaceutical companies' freedom to raise prices. With Clinton in pole position for the White House race, the biotechnology stocks may not have an easy time ahead.
The Bottom Line
This week, the death of the King of Thailand made readers cautious about a potential turmoil in the country, particularly since the economy has already been suffering because of slow demand in China. Copper, second on the list, also suffered this week because of weak trade data in China, while Samsung Electronics got into trouble with its latest smartphone which catches fire. Inverse equities were popular as there are several signs the current bull market may end soon, while the presidential election weighed on biotechnology stocks.
By analyzing how you, our valued readers, search our property each week, we hope to uncover important trends that will help you understand how the market is behaving so you can fine-tune your investment strategy. At the end of the week, we'll share these trends, giving you better insight into the relevant market events that will allow you to make more valuable decisions for your portfolio.