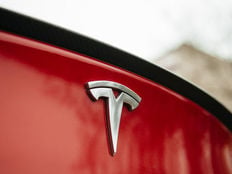 ETFdb.com analyzes the search patterns of our visitors each week. By sharing these trends with our readers, we hope to provide insights into what the financial world is concerned about and how to position your portfolio.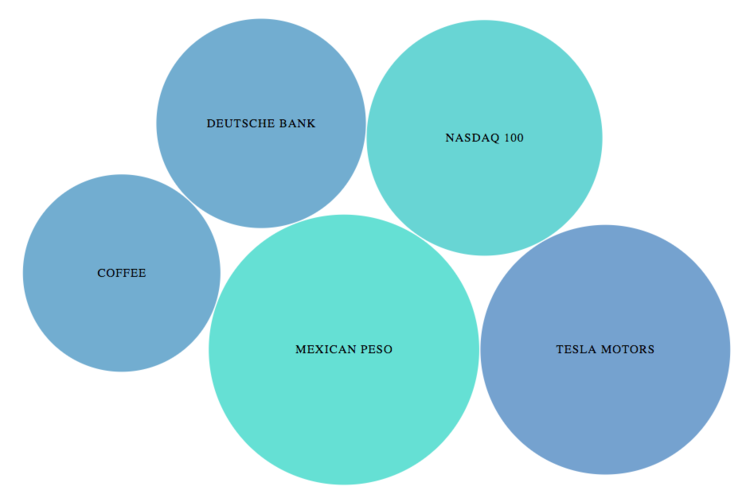 Last week the merger between AT&T and Time Warner was the most popular topic among our readers. This week, attention turned to politics once again. The Mexican peso has generated the most traffic, as the Federal Bureau of Investigation (FBI) dealt a blow to U.S. presidential nominee Hillary Clinton. Elon Musk's plan for building an attractive and cheap electricity-producing solar roof directed attention to the alternative energy ETFs. Coffee's ascent was also on investors' minds this week, along with the Nasdaq 100 and mortgage-backed securities.
---
Content continues below advertisement
Clinton Email Debacle Hits Mexican Peso
The Mexican peso has started to fall again, after the U.S. FBI relaunched its investigation into Hillary Clinton's emails last Friday. The peso's renewed struggle generated a 141% increase in traffic over the past week. iShares MSCI Mexico Capped ETF (EWW A), an ETF exposed to the Mexican stock market, has tumbled more than 5% since the news broke, pushing its year-to-date performance into negative territory to 2.3%.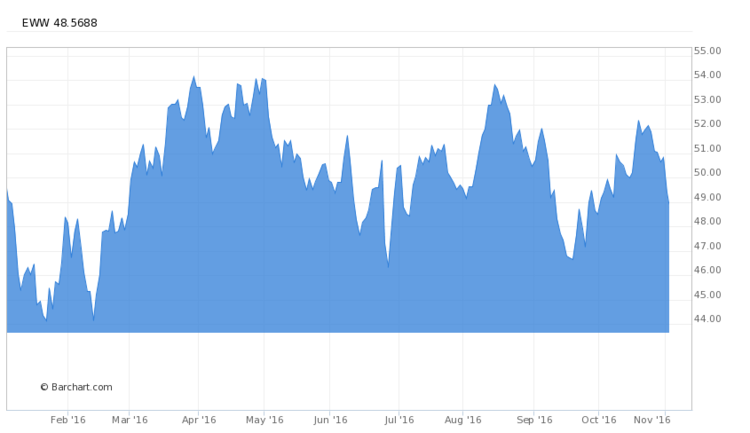 In a controversial move, the FBI decided to reopen its investigation in connection with Clinton's use of her personal email address to communicate matters related to government. The agency said it had found new emails that could be pertinent to the probe, but added they may not contain anything incriminating. The reopening prompted a slew of criticism from the Democratic Party and applause from the Republicans and their presidential candidate Donald Trump. A lateral loser from this debacle was the Mexican peso, which falls when Trump's presidential campaign gains momentum. The reason for this correlation is Trump's pledge to sever commercial ties with Mexico and to end the North American Free Trade Agreement (NAFTA), which also includes Canada. For ways to play a Trump presidency via ETFs, readers should read If Donald Trump Wins. More information about the correlation between the Mexican peso and Trump can be found by reading Presidential Debate Weighs on Mexico.
The investigation, however, is unlikely to move the needle by much in Trump's favor, particularly because Clinton has not yet been accused of anything. Polls continued to show a large gap in Clinton's favor.
Musk Plans to Turn Your Roof Into a Solar-Powered Plant
Tesla Motors (TSLA) CEO Elon Musk has unveiled his grand vision of connecting electric cars, big batteries and beautiful solar roofs, taking almost everyone by surprise. The news turned the attention of our readers to alternative energy ETFs, which have seen their traffic rise by 32% this week. The seemingly good news has done little to arrest the decline of Guggenheim Solar (TAN C+), which has dropped 6.2% since last Friday and 38.1% since the beginning of the year.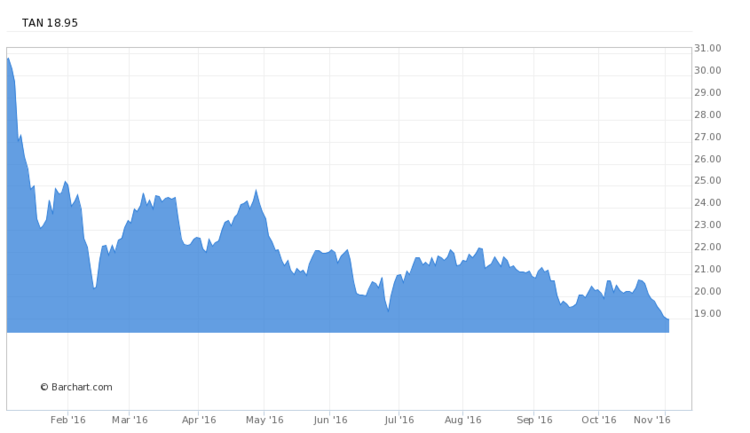 Musk has demonstrated how he plans to create value for shareholders by presenting an attractive-looking solar roof that will be able to power an entire home at all times. The roof will store energy in a newly unveiled 14 kilowatt-hours battery that promises to be cheap enough so as to be enticing to consumers. Musk's ultimate goal is to convince most of the population to generate their own energy through solar roofs, store the unused electricity in Tesla batteries for future needs and charge their Tesla cars with it. Musk's presentation comes days ahead of a crucial shareholder vote on the acquisition of SolarCity, a struggling solar panel firm chaired by Musk himself.
Alternative energy ETFs have had a hard time over the past years, as many of its companies failed to compete with cheaper fossil fuel alternatives. Their solutions catered mostly to climate-aware rich people. Musk, however, has the ambition to trim costs as much as possible in order to make alternative energy solutions cheap and convenient for a broad customer base and profitable for companies. He still has a lot of work to do on all fronts, but Tesla's recently unveiled affordable car is a great step forward. More information about Tesla can be found by reading Tesla and Lithium Demand Has LIT up This ETF.
Nasdaq 100
The Nasdaq 100 index has had a good run lately, beating the S&P 500, despite underperforming the broader index until recently. This change of fortune has attracted 24% more viewers this week compared to last. Over the past six months, the tech-heavy Nasdaq has risen 7.9%, while the S&P 500 increased just under 1%. PowerShares QQQ (QQQ B+), an ETF closely tracking the index's performance, has risen nearly 3% since the start of the year, beating the S&P 500 by 300 basis points.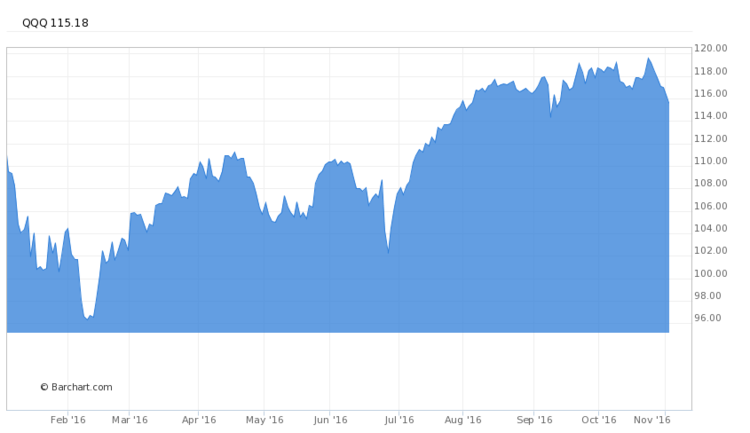 Nasdaq's outperformance has come on the back of increased appetite for risk from investors. Technology companies are usually more volatile than their defensive stocks from the S&P 500, but they offer higher growth prospects. For a detailed performance comparison between the Nasdaq 100 and S&P500, readers should check our Head-To-Head ETF Comparison tool.
Millennials Drive Up Coffee Prices
Coffee prices have posted double-digit gains this year in an environment in which other soft commodities have struggled. This performance, along with news of dwindling inventories, has increased traffic by 20% this week. iPath Bloomberg Coffee SubTR ETN (JO B-) has advanced 22.7% since the start of this year, but has fallen more than 1% in the past five days.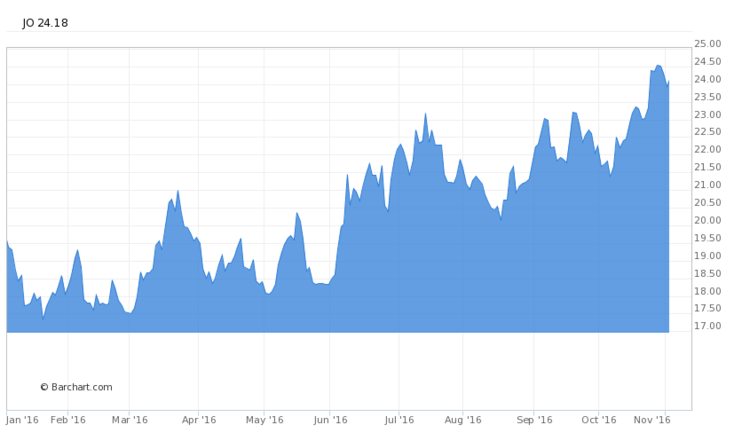 The poor returns since last Thursday may not last long. There are signs demand for coffee will increase in the upcoming period, particularly among millennials, whose appetite seems unwavering. China, meanwhile, has yet to join the coffee trend given that it drinks just six cups per person annually. Over the past decade, Chinese demand for coffee has risen by 16% on average. This seemingly robust demand coupled with falling supply is due to dry weather in Brazil, the largest exporter, and Uganda could pave the way for a continuation of the upward trend. An easy way to find ETFs exposed to commodities, including coffee, readers should check out our ETF Screener tool.
Deutsche Bank's ETF Business Takes A Hit After Record DOJ Fine
Mortgage-backed securities have trended this week possibly because Deutsche Bank recently received a $14 billion fine from the U.S. Department of Justice over the selling of residential mortgage-backed securities before the financial crisis. MBS ETFs have taken last spot on the list with an 18% rise in viewership. Deutsche Bank's shares have dropped over 6.5% over the past five days, extending year-to-date losses to as much as 43%.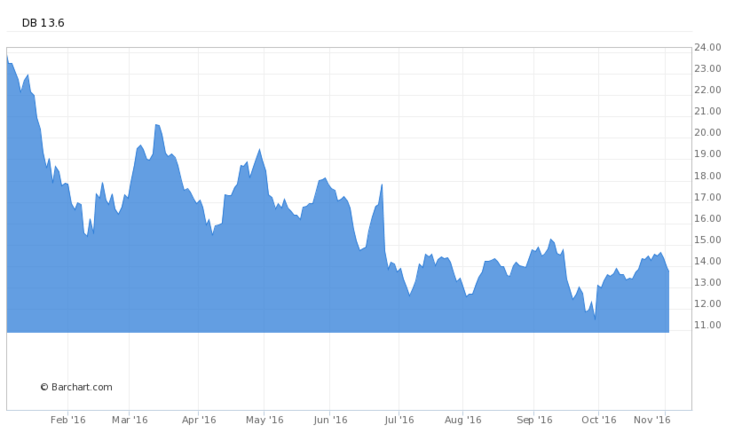 The record fine took pundits and company executives by surprise, as the bank put aside just $5.5 billion to cover litigation costs. As a result of these issues, the firm has seen $8 billion of outflows from its ETFs. There are rumors that the firm is seeking to sell its ETF business, but so far has failed to receive the price it wants. To find ETFs with exposure to Deutsche Bank's stock or any other equity, readers should check out our ETF Stock Exposure Tool. Just insert the ticker and get a list of all ETFs containing the selected stock along with other interesting details.
The Bottom Line
This week was all about politics and renewable energy. The Mexican peso has sunk like a stone after the FBI reopened an investigation into Clinton's emails; while alternative energy ETFs have failed to get a lift after Elon Musk presented his vision for a green future. Nasdaq 100 has been outperforming the S&P 500 lately, and coffee prices got a shot from robust demand and falling supplies. Finally, Deutsche Bank's record fine hurt its stock and the ETF business, which seemingly has been put up for sale.
By analyzing how you, our valued readers, search our property each week, we hope to uncover important trends that will help you understand how the market is behaving so you can fine-tune your investment strategy. At the end of the week, we'll share these trends, giving you better insight into the relevant market events that will allow you to make more valuable decisions for your portfolio.