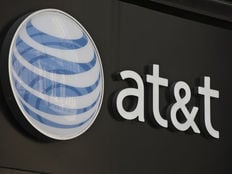 ETFdb.com analyzes the search patterns of our visitors each week. By sharing these trends with our readers, we hope to provide insights into what the financial world is concerned about and how to position your portfolio.
Investors have turned their attention to the U.S. this week, as AT&T announced it will acquire Time Warner in a potentially future-defining deal. As a result, telecom ETFs took first place on our list, followed closely by coal, which has rallied lately. S&P Equal Weight Index and Brazil shared the same spot, largely because of their impressive performance; while aerospace and defense ETFs benefited from favorable rhetoric by the presidential candidates.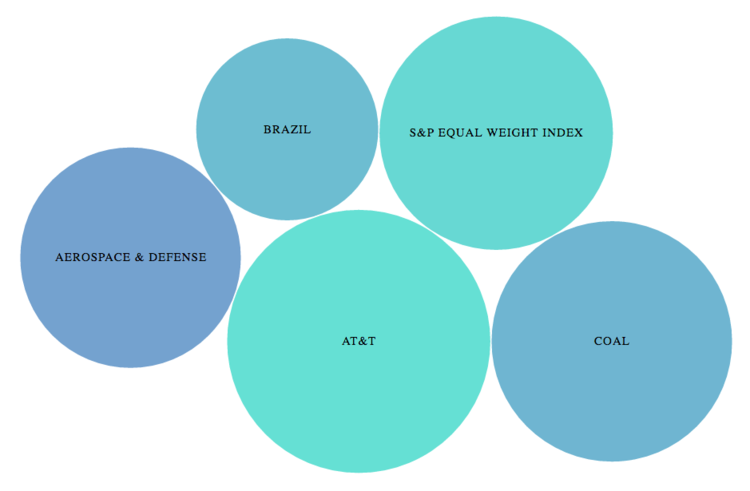 ---
Content continues below advertisement
Media Giant in the Making as AT&T Agrees to Buy Time Warner
It's been a good couple of weeks that politics, geopolitics and the U.S. presidential election weighed on the popularity of financial assets. This week, everyone finally turned their attention to a business deal in telecom, which has seen its traffic rise as much as 78%. AT&T (T) took Wall Street by surprise when it announced a deal to buy content maker Time Warner for $85 billion in cash and stock. The transaction has been deemed game-changing by pundits because for the first time it will bundle the content creator and the carrier together. No wonder the tie-up will face intense regulatory scrutiny. It has already prompted Republican presidential candidate Donald Trump to vow to block the deal if he wins the White House. U.S. Senator Richard Blumenthal was less categorical, but he also said the combination requires serious analysis to understand what it means for U.S. consumers, while Democratic runner-up Tim Kaine said he too had concerns.
Vanguard Telecommunication Services (VOX B) has fallen more than 3% since the deal was announced this weekend, dragged down by the AT&T stock, which has dropped about 7% over the past five days. Vanguard Telecommunication has the second-highest exposure to AT&T at 21.5%, surpassed only by Fidelity MSCI Telecommunication (FCOM B). For more information on stock weightings, users can use our ETF Stock Exposure Tool. Just enter the ticker and get all the ETFs exposed to the selected stock along with additional information such as ETF Database Category, expense ratio and weighting.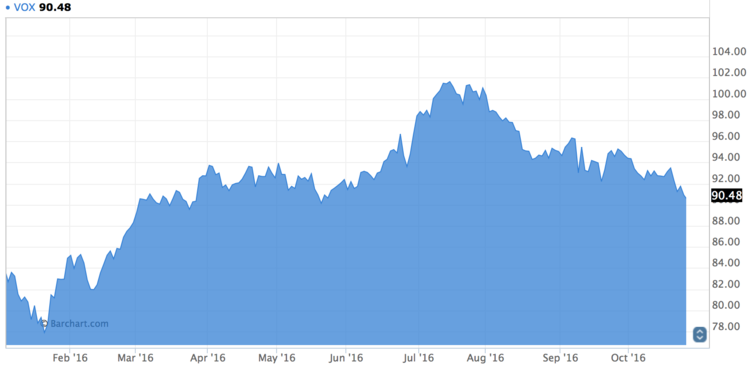 The market is not convinced the deal will pass all regulatory tests, but is still putting a 50% chance on a positive outcome. It is yet unclear what the combined company will become, but surely AT&T CEO Randall Stephenson sees a future where TV service providers and content creators live under the same roof. That was not the case up until now.
China's Inside Issues Spark a Coal Rally
An unexpected rally in coal has sparked a 68% increase in traffic over the past week at the two ETFs tracking the fossil fuel. Coal has finally been getting a little bit of respite after dropping incessantly over the past four years. Just this month, VanEck Vectors Coal ETF (KOL B+) soared 14%, extending year-to-date performance to an astonishing 110%.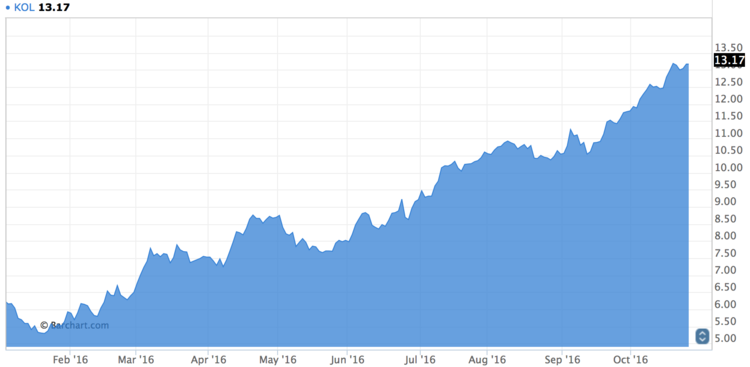 The primary reason for the coal's rise is China. Many of the country's coal miners do not yet wish to increase production despite intermittent shortages. Their argument is self-evident: increasing supply will put pressure on prices and deny them the chance of re-building their weak balance sheets.
Coal has been among the commodities that suffered the most from the war on fossil fuel and the government's mission to tackle climate change. But the unloved commodity could make a comeback if Donald Trump wins the White House. For more on that, you can check out How Will Energy ETFs Be Affected If Trump Wins.
Equal Weighted Indices Continue to Outperform in a Bull Market
ETFs tracking the S&P Equal Weight Index have posted an excellent performance so far this year, as the bull market continues to roll on. The outperformance attracted 38% more traffic this week compared to last. Guggenheim S&P 500 Equal Weight (RSP A-) has advanced nearly 7% since the beginning of the year, beating its market-cap-weighted counterpart by two percentage points.
In a bull market, the S&P Equal Weight Index typically rises more than the normal index because smaller capitalization firms are more volatile and have more room for revenue growth than stable giant companies. The flip of the coin is that the equal-weight index tends to underperform in a bear market.
Central Bank's Rate Cut Drives Brazil's ETFs Higher
Brazil is finally in the spotlight with an economic news angle, rather than the usual political ones. The country has seen 38% more viewers this week compared to the previous one, largely because of a market rally sparked by a central bank rate cut. iShares MSCI Brazil Capped (EWZ A-) has increased about 3% in the past week alone, extending the year-to-date rally to 83%.
The country's ETFs have been among the best performers in the emerging market lately, boosted by a strong currency, an improving political environment and, crucially, recovering commodity prices. Those ETFs with larger exposure to the country have usually performed better than the rest. More information on country ETF weightings can be accessed through our Country Exposure Tool. Just click on a country and instantly get a list of all ETFs classified by weighting.
Trump and Clinton Have Pricy Defense Policies
As the U.S. presidential battle rolls on, aerospace and defense companies try to understand which candidate will be better for their business. The sector has garnered 33% more viewers this week compared to last, as many ETFs continued their year-to-date advance. For example, iShares US Aerospace & Defense (ITA B+) has edged up 2.7% since last Thursday, extending gains since the start of the year to more than 10%.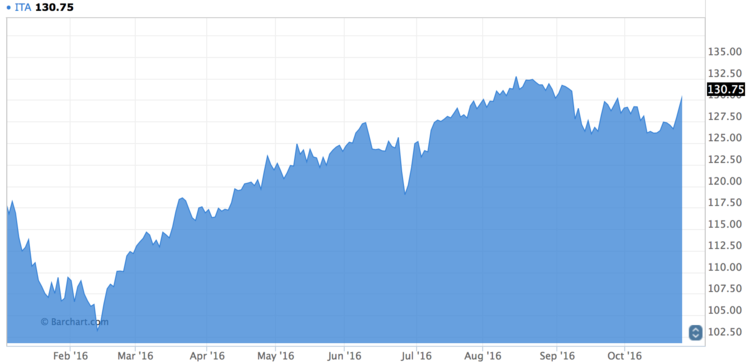 Both Hillary Clinton and Donald Trump have a strong rhetoric regarding defense spending, but the former's plan is not yet clear. Trump's recent proposals for boosting the military are expected to cost $640 billion, according to estimations by the Center for Strategic and International Studies. More information about the impact of a Trump presidency on the sector can be accessed through The Big Play in Aerospace & Defense ETFs If Trump Wins.
Although Clinton's plan is less clear, she's also expected to dedicate a good part of the budget to defense spending, albeit slightly less than Trump.
The Bottom Line
The game-changing mega-deal between AT&T and Time Warner has raised eyebrows for now, but the transaction could very well be killed by regulators. Coal has been rising lately on internal issues in China, prompting many to speculate whether the long-term downward trend will be reversed. Brazil and equal-weighted indices have shared third place because of their outperformance, while defense companies have been closely watching the presidential race in order to predict their own future.
By analyzing how you, our valued readers, search our property each week, we hope to uncover important trends that will help you understand how the market is behaving so you can fine-tune your investment strategy. At the end of the week, we'll share these trends, giving you better insight into the relevant market events that will allow you to make more valuable decisions for your portfolio.
For more ETF news and analysis, subscribe to our free newsletter.