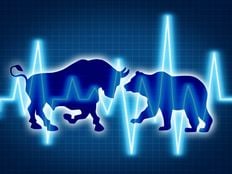 To help investors keep up with the markets, we present our ETF Scorecard. The Scorecard takes a step back and looks at how various asset classes across the globe are performing. The weekly performance is from last Friday's open to this week's Thursday close.
This week was tepid both in economic data and events.
The central bankers of the world are gathering in Jackson Hole for a three-day annual symposium organized by the U.S. Federal Reserve to talk macroeconomic policy and challenges facing the global economy. Investors will turn their attention to

ECB

President Mario Draghi and Fed Chair Janet Yellen, as both will deliver speeches on Friday.
U.S. consumer sentiment unexpectedly surged to 97.6 in August, beating consensus estimates of 94. In the prior month, the sentiment hovered around 93.4.
Germany's business sentiment, meanwhile, deteriorated, dropping to as little as 10 from 17.5. The poor figure had an impact on the wide European economic sentiment, which fell from 34.2 to 29.3.
European

PMI

was strong in August, bursting to 57.4 from 56.6 previously. Analysts had expected a reading of 56.3.
U.S. crude oil inventories dropped for the eighth consecutive week. For the August 18 five-day period, stockpiles declined by 3.3 million barrels, an improvement compared to last week's fall of 8.9 million barrels.
U.S. new home sales thoroughly disappointed, coming in at 571,000 for July. Pundits had forecasted a figure above 600,000. Sales for the previous two months, however, were revised up by a total of 33,000.
U.S. unemployment claims again indicated the job market was strong, changing little from last week. Jobless claims stood at 234,000 against estimates of 237,000.
Risk Appetite Review
Unsurprisingly, low volatility (

SPLV

) is the poorest performer, up 0.16%.
The broad market's (

SPY

) performance was in the middle with a rise of 0.45%.
Sign up for ETFdb.com Pro and get access to real-time ratings on over 1,900 U.S.-listed ETFs.
---
Content continues below advertisement
Major Index Review
Global equities were all up this week.
Sectors Review
Consumer staples (

XLP

) is one of two sectors to drop this week, declining 1.34%.
There's no doubt as to which sector underperformed for the month. The energy industry (

XLE

), although having a good week, fell 4.64% in the past 30 days through Thursday's close.
Foreign Equity Review
The volatile Brazil (

EWZ

) gained the most, both for the week and the rolling month, as optimism in the country's prospects is rising. Investors cheered a plan by the government to sell a stake in state-controlled utility company Eletrobras. (

EWZ

) rose 4.51% in the past five days and is up 7.73% for the rolling month.
Japan (

EWJ

) was the worst performer and the only faller with a drop of 0.37%. The nation's equities suffered because of a strong yen of late.
Britain (

EWU

) is continuing to underperform, with equities dropping a stunning 2% over the past month largely due to deteriorating economic prospects stemming from Brexit.
To find out more about ETFs exposed to particular countries, check our

ETF

Country Exposure tool. Select a particular country from a world map and get a list of all ETFs tracking your pick.
Commodities Review
Agriculture (

DBA

) is the worst performer for the month, down 5.81%.
Currency Review
The Japanese yen (

FXY

) is the worst performer among its peers, dropping 0.68% this week, correcting gains reported in previous weeks as a result of its safe-haven status. The correction, however, was not enough to erase its impressive monthly gain of 1.76%.
The British pound (

FXB

) posted the lousiest performance for the rolling month, dropping 1.96%.
For more ETF analysis, make sure to sign up for our free ETF newsletter.
Disclosure: No positions at time of writing.