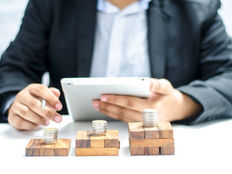 With more than 2,000 ETFs available to investors, just about every niche, sector and market have been covered. Many of the big players are now competing on cost by either lowering expense ratios or debuting funds that are among the cheapest in their peer group.
This week, Invesco's PowerShares family of funds brings several such products to the marketplace. Here are this week's new fund launches:
---
Content continues below advertisement
Invesco PowerShares Introduces PureBeta ETF Lineup
Invesco is the fourth-largest ETF provider, running more than 100 different funds and managing over $120 billion in investor assets. Its roster is incredibly diversified, but its new batch of offerings keeps it simple and cheap. Really cheap.
The PowerShares PureBeta MSCI USA Portfolio (PBUS A-) looks almost identical to the S&P 500. The fund's underlying index tracks a basket of large- and mid-cap stocks that are weighted by market cap, and it is rebalanced on a quarterly basis. It's certainly not a new strategy and there will be stiff competition in this space, but Invesco plans on breaking through the clutter by making it dirt cheap. At 0.04%, its expense ratio is less than half that of the SPDR S&P 500 ETF (SPY A).
The PowerShares PureBeta MSCI USA Small Cap Portfolio (PBSM A-) is benchmarked to the MSCI USA Small Cap Index and holds more than 1,800 different stocks. Its 0.06% expense ratio would trail only that of the Schwab U.S. Small Cap ETF (SCHA A) at 0.05% in the small-cap ETF universe.
Invesco also launched a pair of overseas ETFs: the PowerShares PureBeta FTSE Developed ex-North America Portfolio (PBDM B) and the PowerShares PureBeta FTSE Emerging Markets Portfolio (PBEE B+). The ex-North America ETF focuses on large- and mid-cap stocks from the world's largest developed markets and charges just 0.07% annually. The fund currently has its largest allocations in Japan (23%), the United Kingdom (17%) and France (10%). The Emerging Markets ETF targets developing economies such as China (28%), Taiwan (14%) and India (12%). Benchmarked to the FTSE Emerging Index, it has an expense ratio of 0.14%, putting it just one basis point higher than the category's cheapest fund, the Schwab Emerging Markets Equity ETF (SCHE A).
Rounding out the suite is the PowerShares PureBeta 0-5 Year US TIPS Portfolio (PBTP B). As the name suggests, it sticks with shorter-term inflation-protected bonds issued by the government. The portfolio currently has an average of 2.7 years to maturity, putting it squarely in the middle of its target range. It carries an expense ratio of 0.07%.
For a list of all Invesco PowerShares ETFs, click here.
Guggenheim Launches Two More BulletShares ETFs
Guggenheim Investments (which just recently agreed to have its ETF business purchased by Invesco for $1.2 billion) added two more funds to its BulletShares lineup. These funds invest in a portfolio of fixed income securities that are expected to mature within a given calendar year. Once the fund reaches its target maturity date, the fund closes. The BulletShares funds are meant to give investors a great deal of flexibility by allowing them to target very specific durations and qualities.
The Guggenheim BulletShares 2027 Corporate Bond ETF (BSCR A-) invests in investment grade corporate notes that will mature 10 years from now, while the Guggenheim BulletShares 2025 High Yield Corporate Bond ETF (BSJP B+) invests in a portfolio of junk bonds that will mature in 2025. These ETFs will be the latest additions to the company's 20-fund BulletShares lineup.
For more ETF news and analysis, subscribe to our free newsletter.
The Bottom Line
Recent trends in the ETF marketplace show that investors are flocking toward funds with the lowest expense ratios. It explains why ETF heavyweights, such as Vanguard, BlackRock and State Street, are continuing to drop fees on many of their most popular funds, and why competitors to these three are eager to get in on the low-fee trend. Invesco is already a major player in the ETF business. Its new ultra-low cost funds could make it even bigger.
ETFdb has ETF Investing Guides and other e-books to help you navigate the investing landscape using ETFs. Sign up to ETF Database Pro to get access to all the PDFs located on our ETF Guides page.