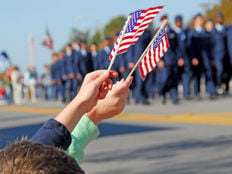 A lot of investors want to get in on the next-generation technology revolution, and ETF issuers are more than happy to provide them the means.
This year alone, we've already seen new funds targeting blockchain, cybersecurity and smart transportation. The trend continues this week, as a pair of well-known providers jump into the fray.
Here are this week's new fund launches:
---
Content continues below advertisement
The First ETF Focusing on the Electric Car Revolution
There are ETFs that focus on the auto industry and ETFs that focus on clean energy, but the KraneShares Electric Vehicles and Future Mobility Index ETF (KARS C) is the first to focus on clean energy transportation. While many will instantly think of Tesla (TSLA) when they see this fund, the fund's mandate is pretty broad as far as which names make the cut. It targets companies that are engaged in the production of electric vehicles, their components or the future of mobility in general. KraneShares boasts that the global electric vehicle market is projected to command $2.7 trillion of total investment before 2040.
InsightShares Expands Its Socially Conscious Lineup with a Military-Friendly Fund
Earlier this month, InsightShares debuted its first ETF, the InsightShares LGBT Employment Equality ETF (PRID B-). This week, it adds a second socially conscious fund to its roster, the InsightShares Patriotic Employers ETF (HONR B-). The fund follows the performance of the Military Veteran's Index, a collection of companies that score highest in Victory Media's Military Friendly Employer ratings. The survey considers factors such as applications, new-hire retention, employee turnover and promotion and advancement of veterans and military employees. The fund will charge 0.65% annually.
For more ETF news and analysis, subscribe to our free newsletter.
Getting Really Risky with the FANG Stocks
The FANG stocks – Facebook (FB), Amazon (AMZN), Netflix (NFLX) and Google (GOOG) – have been amazingly profitable for investors, but they're also volatile. Daily moves of 5-10% are not unheard of around events such as quarterly earnings. The latest products from BMO and REX try to take advantage of that inherent risk. The BMO REX MicroSectors FANG+ Index 3X Leveraged ETN (FNGU B) and the BMO REX MicroSectors FANG+ Index -3X Inverse Leveraged ETN (FNGD B-) are triple-leveraged products that aim to deliver three times the daily performance of not just the FANG stocks, but other similar companies on top of them. The ETNs also include Twitter (TWTR), Alibaba (BABA), Apple (AAPL), Baidu (BIDU), Nvidia (NVDA) and Tesla (TSLA), and allocates 10% to each of the 10 companies.
Another New Blockchain ETF
The first two blockchain ETFs that launched earlier this month have been wildly successful, raking in a combined $240 million since their launches. The third blockchain ETF, the First Trust Indxx Innovative Transaction & Process ETF (LEGR C), debuts this week. This fund seeks to invest in companies that it labels either as "active enablers" – those that are either developers or providers of blockchain technology – or "active users" – those are using the technology provided by the enablers. The fund avoids companies that have announced their intention of developing blockchain technology but to date have not made progress. The fund plans to split its holdings 50-50 between the enablers and the users.
GraniteShares Debuts Its Platinum Trust
Platinum is the third most heavily traded metal in the world, behind gold and silver, and it becomes easier for investors to take part in thanks to this week's launch of the GraniteShares Platinum Trust (PLTM C+). It's only the second fund to be backed by physical platinum – the ETF Physical Platinum Shares Trust (PPLT A-) being the other – and will charge an expense ratio of 0.50% annually. The platinum underlying the fund will be stored in a secure vault in London.
JPMorgan Kicks off 2018 With an Alternate Strategy based ETF
J.P. Morgan brought 10 ETFs to market in 2017, and this week launches its first new fund of 2018, the JPMorgan Long/Short ETF (JPLS ). The long-short strategy looks to profit from taking positions in stocks that are expected to both rise and fall. The fund employs an actively managed strategy that looks at value, momentum, quality and size factors in order to identify both long and short opportunities. It currently has more than 500 different holdings, and charges an annual expense ratio of 0.69%.
The Bottom Line
As tech remains the market's top-performing sector, and with blockchain and cryptocurrencies all the rage, expect the trend of more new tech-focused ETFs to continue. The triple-leveraged FANG ETNs will no doubt get some use from those willing to swing for the fences, but they're going to be extraordinarily risky for the typical investor. Socially conscious investing should be a big theme in 2018, and a product targeting veteran-friendly companies should appeal to a good number of investors.
ETFdb has ETF investing guides and other ebooks to help you navigate the investing landscape using ETFs. Sign up for ETF Database Pro to get access to all the PDFs located on our ETF Guides page.