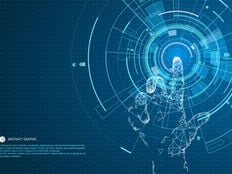 Investing in companies that develop robotics-related technology or artificial intelligence capabilities has proven to be especially lucrative.
In just over two years, the original robotics ETF, the Robo Global Robotics & Automation Index ETF (ROBO B-), has returned more than 110%. The second robotics ETF, the Global X Robotics & Artificial Intelligence ETF (BOTZ B), launched about a year and a half ago, and has enjoyed similar success. This week, a third robotics ETF joins the group. Will it be a winner or is it too late to the party?
Here are this week's new fund launches:
---
Content continues below advertisement
First Trust Enters the Robotics and Artificial Intelligence Space
The First Trust Nasdaq Artificial Intelligence and Robotics ETF (ROBT B+) is entering a space that's already populated with a pair of $2 billion-plus behemoths with strong performance track records. The sector is growing rapidly and has caught the attention of investors looking to get a piece of the action, but has the fund got what it takes to gain a footing?
ROBT looks to capture companies that it classifies into one of three categories. The "enablers" are businesses that develop the components of robotics and AI technology, such as semiconductors or advanced machinery. The "engagers" are the companies that design and create the robotics or AI technology, through the development of software or systems. The "enhancers" are those that provide add-ons or value-added services to existing products within the space. Companies that fall into one of those groups and meet certain size and liquidity requirements are then scored based on their involvement within each category. A proprietary algorithm identifies and captures the top 30 companies within each of the three categories. Engagers comprise 60% of the portfolio, enables receive 25% and enhancers get the final 15%. Qualifying companies are equal-weighted within each category.
ROBO takes a somewhat similar approach in that they separate companies into two categories, technologies and applications. BOTZ uses a broader identification strategy built on how much robotics and AI-related revenue the company generates. One advantage ROBT has is cost. It will be the cheapest of the three, with an expense ratio of 0.65%. If there's one thing that we've learned from the ETF marketplace, it's that investors tend to flock to the cheapest funds.
For more ETF news and analysis, subscribe to our free newsletter.
NextShares Expands Its Lineup by Three
The NextShares family of funds are categorized not as ETFs but as exchange-traded managed funds (ETMFs). ETMFs are designed to combine the best features of active fund management and low-cost ETFs. Like mutual funds, ETMFs are priced only at the end of the trading day, but they are built to capture the tax and trading efficiencies of ETFs (a more detailed comparison can be found here). NextShares offers the largest lineup of ETMFs.
The Brandes Value NextShares Fund (BVNSC ) seeks long-term capital appreciation by investing in companies that the managers feel are cheap relative to the intrinsic value of the business or by traditional valuation metrics. The managers will look at factors, such as company earnings, cash flows and enterprise value, to identify undervalued companies of all sizes, although the fund anticipates focusing on large caps.
The Gabelli RBI NextShares Fund (GRBIC ) is looking to capitalize on the potential boom in infrastructure spending. It will invest in companies focused on physical asset development, such as roads, bridges and infrastructure (RBI), that stand to benefit from increased investment in the space. The fund also employs a value-oriented philosophy by identifying companies whose assets are selling at a discount to their private market value. This will be Gabelli's third fund in the NextShares family.
The Reinhart Intermediate Bond NextShares Fund (RPIBC ) starts by targeting the universe of investment-grade bonds with an average maturity in the three-to-eight-year range, and it can choose from government, corporate, agency, mortgage-backed and other types of bonds. From there, the managers look for bonds that share four key characteristics: quality, visibility, liquidity and availability. In other words, the fund is looking for highly liquid bonds backed by strong financial health and little chance of credit risk.
The Bottom Line
The ETMF is a bit of an unusual product in that it offers some positive features, such as the low-cost ETF wrapper, but it also comes with a few less attractive features, such as limited transparency and a lack of trading flexibility. NextShares has grown its lineup of ETMFs considerably over the past couple years, although most of the products have seen little asset growth. ROBT will be an interesting fund to watch to see if it's able to use its low-cost advantage to grow like its peers or if it's already gotten off the ground too late. The demand for exposure to robotics technology remains high so the fund does have a couple of tailwinds that could benefit it.
ETFdb.com has ETF investing guides and other ebooks to help you navigate the investing landscape using ETFs. Sign up to ETF Database Pro to get access to all the PDFs located on our ETF Guides page.