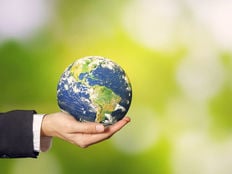 Over the past year or so, we've seen an increasing number of industry big names lending their names to ETFs.
Music legend Quincy Jones is part of an ETF filing targeting music and entertainment companies. Oil magnate T. Boone Pickens lent his name to the NYSE Pickens Oil Response ETF (BOON C) launched back in February. Cryptocurrency expert and part-time CNBC contributor Brian Kelly is the manager of the REX BKCM ETF (BKC ) that debuted just a few weeks ago. This week, hedge fund manager Paul Tudor Jones gets in on the action.
Here are this week's new fund launches:
---
Content continues below advertisement
Jones Aims to Join Values and Profits in New ETF
Paul Tudor Jones is not only a noted Wall Street hedge fund manager, but also a billionaire philanthropist. His charitable foundation, Just Capital, conducts regular polling to determine people's most important issues when it comes to appropriate business behaviors. That polling scores companies based on issues, such as worker pay, customer treatment, privacy and job creation. This research forms the foundation of the Goldman Sachs JUST U.S. Large Cap Equity ETF (JUST A-), the newest entry in the ESG investing space.
The fund will use a Just Capital model to score companies based on the factors listed above. It will consist of the top-ranked 50% of all Russell 1000 companies based on the Just Capital scoring methodology. Selected components will be market-cap weighted in an index that will be rebalanced quarterly. Jones has a great deal of confidence in the new ETF saying in a recent interview that "I think it's going to be a really big ETF down the road. I think it's going to rival the S&P and the Nasdaq."
For more ETF news and analysis, subscribe to our free newsletter.
Fidelity Adds Two to Its Fixed Income Lineup
Fidelity launches a pair of ETFs this week to fill in gaps in its fixed income roster. The Fidelity Low Duration Bond Factor ETF (FLDR B-) uses what it calls an "enhanced" strategy investing in a combination of government securities and investment-grade corporate bonds. According to the fund's website, the fund's index is designed to optimize the balance of interest rate risk and credit risk in such a way that both returns and risk measures may be improved relative to traditional U.S. investment grade floating rate note indices. It will typically target corporate floating rate notes with less than 5 years maturity and U.S. Treasury notes with 7 to 10 years maturity with the additional goal of maintaining an overall duration of one year or less.
The Fidelity High Yield Factor ETF (FDHY A-) also puts a tilt on its target universe by looking for junk bonds that exhibit both value and quality characteristics. Using more of a quantitative approach to security selection, the fund has a broad mandate for where it can find bonds. It can dabble in bonds issued by companies either in default or in bankruptcy and can invest virtually anywhere around the world.
BlackRock Launches Another Gold ETF
BlackRock already manages one of the biggest gold funds in the world in the nearly $12 billion iShares Gold Trust ETF (IAU A-). This week, it debuts the iShares Gold Strategy ETF (IAUF ), a product that offers similar exposure to gold but in a structurally different way.
The main difference between the two funds is that IAU is structured as a grantor trust, whereas IAUF is a 1940 Act fund. Grantor trusts typically hold physical commodities, whereas 1940 Act funds (which most ETFs are structured as) can invest in securities, derivatives and other funds. IAUF will also likely offer easier tax reporting, including 1099s, than IAU.
At a fundamental level, both IAU and IAUF offer virtually identical exposure to gold. Both have identical 0.25% expense ratios, so the main differentiator is just legal structure.
Amplify Debuts a Rotation Strategy Fund
The Amplify EASI Tactical Growth ETF (EASI B-) is a fund that looks to take advantage of the growth potential in equities during up markets while maintaining the ability to shift to fixed income investments in down markets. The allocation to stocks and bonds is determined by Amplify's "Long-Term Tactical Allocation Signal," which looks at the monthly price changes in equities over the past 12 months. When invested in equities, the fund will choose between 33 and 50 stocks based on recent price performance and fundamentals. When invested in fixed income, the fund will be composed of five ETFs that invest in investment grade U.S. fixed income securities.
The Bottom Line
Smart-beta strategies rule the day. Factor investing in the fixed income world is less common than in stocks, so Fidelity has a chance to place a stake in the ground using things, such as value and quality, as selection criteria instead of just using traditional market-cap weighting. The two biggest gold ETFs, IAU and the SPDR Gold Trust ETF (GLD A-), are both organized as trusts, so launching a more tax-friendly product with similar gold exposure makes sense. Amplify has a long history of bringing innovative and unique ETFs to the marketplace. EASI fits in nicely with that strategy.
Sign up for ETFdb.com Pro and gain access to more than 50 all-ETF model portfolios, each of which is backed by a unique investment thesis.