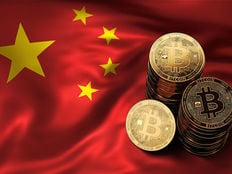 Bitcoin may be ice cold as an investment right now, but blockchain, the technology underlying bitcoin, is still red hot.
This week, we get this year's 6th blockchain ETF to hit the market (along with one up in Canada), but this one has a foreign twist to it.
Here are this week's new fund launches:
---
Content continues below advertisement
Reality Shares Launches Its 2nd Blockchain ETF
Reality Shares manages a half dozen different funds, but it's become best known for its blockchain ETFs. Along with Amplify, it was the first company to debut a blockchain ETF back in January. This week, it becomes the first company to launch a second blockchain ETF with the addition of the Reality Shares Nasdaq NexGen Economy China ETF (BCNA ).
BCNA differentiates itself from the other blockchain ETFs by being the only one to focus strictly on Chinese companies. It operates in essentially the same manner as its sister fund, the Reality Shares Nasdaq NexGen Economy ETF (BLCN C), in that it ranks and invests in companies based on its proprietary Blockchain Score methodology. The Blockchain Score measures the degree to which companies are committed to investing in and developing blockchain technology by looking at factors such as blockchain technology development, innovation, economic impact and participation in industry groups. The fund is weighted according to the Blockchain Score and is rebalanced semiannually.
For more ETF news and analysis, subscribe to our free newsletter.
J.P. Morgan Triples up on Plain Beta ETFs
J.P. Morgan has developed a very diversified lineup of more than two dozen ETFs, but this week it's improving upon its core ETF roster. The company's new "BetaBuilders" funds are not designed to necessarily be exciting, but they are designed to be ultra-cheap, broadly diversified core portfolio holdings.
The JPMorgan BetaBuilders MSCI U.S. REIT ETF (BBRE A-) will track the results of the MSCI U.S. REIT Index, the same index that is used by the ultra-popular Vanguard Real Estate Index ETF (VNQ A). With BBRE, J.P. Morgan is looking to do something that few fund providers attempt and even fewer are successful at: compete on cost. The 0.11% net expense ratio of BBRE will come in a single basis point below that of VNQ, hoping to attract the assets of investors looking for the lowest cost options.
That idea is similar with the JPMorgan BetaBuilders Japan ETF (BBJP ). In late 2017, Franklin Templeton used a similar strategy in launching roughly a dozen single country funds with some of the lowest expense ratios in the industry. The Franklin FTSE Japan ETF (FLJP A-) has since amassed more than $230 million in assets. BBJP's expense ratio of 0.19% won't be as low as FLJP's, but it does compare favorably to almost every non-Franklin Japan-focused ETF. BBJP's index targets companies traded primarily on the Tokyo and Nagoya Stock Exchanges and holds nearly 400 companies currently.
The JPMorgan BetaBuilders Europe ETF (BBEU A) is the final fund of the trio. Its expense ratio of 0.09% is expected to be the cheapest (tied with a few others) in the Europe ETF group, narrowly coming in cheaper than offerings from both Vanguard and iShares. The fund aims to achieve broad diversification across all countries but currently concentrates largely in the United Kingdom (24%), France (15%), Germany (14%) and Switzerland (13%).
The Bottom Line
This week's launches follow two very popular themes in the ETF industry – blockchain and low fees. The blockchain ETFs seem to be trying to capitalize on the buzzword as the technology is so early in development and pure exposure is so difficult to find. The focus on China is a good idea since much of the development will likely emerge from that area. Regarding J.P. Morgan's foray into low-cost ETFs, companies have tried to compete with the likes of Vanguard on fees with mixed success. J.P. Morgan is a big enough name in the financial industry that this could be one of the cases where the ETFs catch on with investors.
ETFdb.com has ETF investing guides and other e-books to help you navigate the investing landscape using ETFs. Sign up to ETF Database Pro to get access to all the PDFs located on our ETF Guides page.