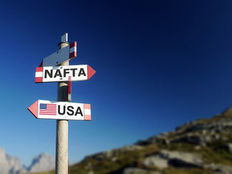 U.S. stocks are hovering near record highs in what has become the longest bull market in history. The latest push upward has come after the U.S. and Mexico reached a breakthrough in trade negotiations, which may be joined by Canada soon. Mexico took second place in the list this week, bested only by emerging markets. Small-cap stocks generated traffic as they recently reached record highs. Amid a strong bull market, investor interest in gold, a safe haven, increased. The consumer discretionary sector closes the list.
Check our previous trends edition here.
Emerging Markets
ETFs providing exposure to a drawdown in emerging markets have trended the most this week, seeing their viewership increase 97%. In no small part, this is a continuation of the last trends' article theme, which delved in-depth into Turkey's crisis as the lira crashed against the U.S. dollar.
Coupled with a potential trade war between the U.S. and China, Turkey's crisis turned investor attention to emerging markets in general. Short MSCI Emerging Markets ProShares (EUM A-) has risen 1.3% in the past month, extending year-to-date gains to as much a 4.3%. (EUM A-) includes stocks from 23 emerging market countries, including China, Turkey and Russia.
---
Content continues below advertisement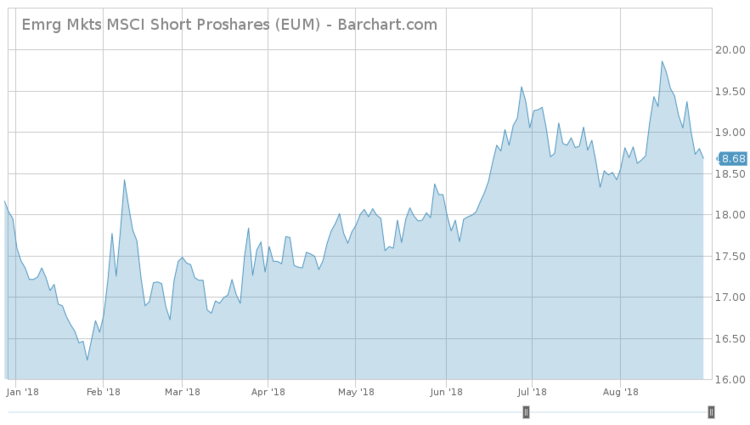 A strong U.S. dollar and rising interest rates in the U.S. do not bode particularly well for emerging markets, although some are fundamentally better prepared for a storm than others. Turkey has long been at the risk of implosion given its high corporate debt as President Recep Tayyip Erdoğan pursued his growth-at-all-costs policy. Countries with healthy economic fundamentals are Russia, India and South Korea, among others. China has been making progress in taming its runaway corporate debt but a trade war could ignite a selloff.
Sign up for ETFdb.com Pro and get access to real-time ratings on over 1,900 U.S.-listed ETFs.
Mexico–U.S. Trade Deal Puts Pressure on Canada
Mexico has taken the second spot in the list this week with a 93% rise in viewership, as the country's regulators agreed to concessions on NAFTA in order to reach an agreement with the U.S. Canada, which was absent from trade talks for two months, has joined the trade discussions, wary of remaining isolated on the North American continent. iShares MSCI Mexico (EWW A) gained after the breakthrough was announced two days ago but has shed all gains since then and is now down nearly 1% for the week. Year-to-date, (EWW A) remains up more than 4%.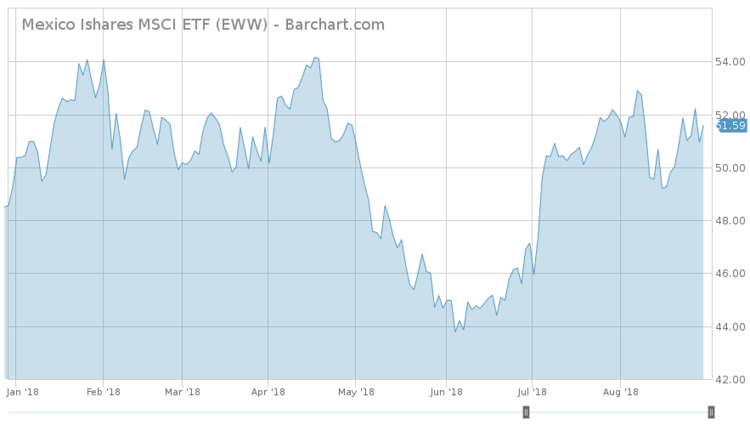 The benchmark S&P 500 (SPY A) surged to record highs following the deal and is up nearly 2% in the past five days and 9% since the beginning of the year.
Sources in the industry revealed that Mexico's exports of cars to the U.S. would be capped at 2.4 million annually. Above that threshold, Trump would impose a tariff. Canada has now joined the trade discussions in the hope that a trilateral deal would be inked. Both the U.S. and Mexico signaled that they can clinch a bilateral deal, but the latter made clear its preference was for Canada to join the agreement.
Among other issues, Canada opposed the elimination of a provision that deterred the U.S. from pursuing anti-dumping and anti-subsidy cases. Mexico conceded in this dispute.
Small-Cap Stocks on a Tear
Small surprise that small-cap stocks are trending this week, as the U.S. middle market companies are on a tear. The S&P 600 index has seen its viewership rise as much as 92% in the past five days, as the index reached record highs. iShares Core S&P Small-Cap (IJR A-) hit its peak on August 27 at $90.53 before retracting in the coming days to a weekly gain of just 0.22%. Notably, (IJR A-) has surged 17% since the start of the year, nearly double the S&P 500.
Use our Head-to-Head Comparison tool to compare two ETFs such as (IJR A-) and (SPY A) on a variety of criteria such as performance, AUM, trading volume and expenses.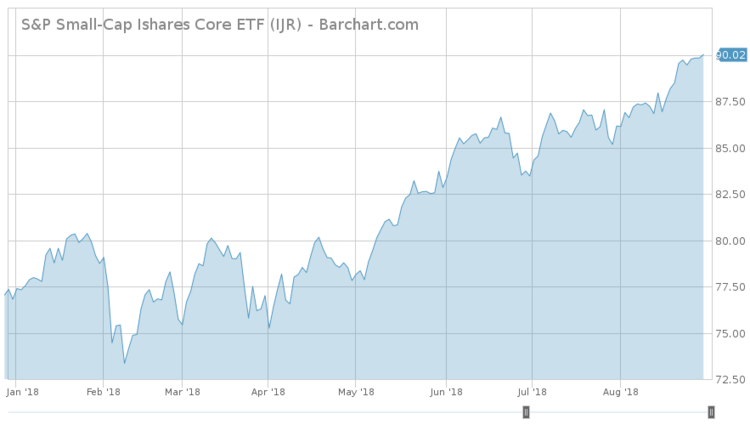 None of the companies in the small-cap index make up more than 1% of its weighting. Ligand Pharmaceuticals, Trex Company and HealthEquity are among the ETFs biggest holdings, collectively accounting for 1.7% of its market capitalization.
Small-cap stocks have received a double boost this year from the U.S. government. Tax reforms have increased the companies' coffers and available cash to spend on investments or return to shareholders and a U.S. trade dispute, mainly with China, left the smallest companies untouched, given their lack of exposure to global matters. In addition, a strong U.S. economy weighed positively on demand.
Gold
Confronted with low volatility in gold prices, investors are seeking ways to increase their potential returns through leverage. Leveraged gold products have seen their traffic advance 67% this week as gold prices gained, thanks to turbulence in emerging markets. Amplify the performance three times with VelocityShares 3x Long Gold (UGLD B-) and the product returned 3.7% in the past five days. Year-to-date, however, (UGLD B-)'s performance is rather disappointing, down more than 26%.
For a deeper analysis on individual ETF investments such as (UGLD B-) or (IJR A-), use our ETF Analyzer tool. You can select ETFs by Category or Type as well as add individual ticker symbols to compare performance, expenses and dividend yield, among other metrics.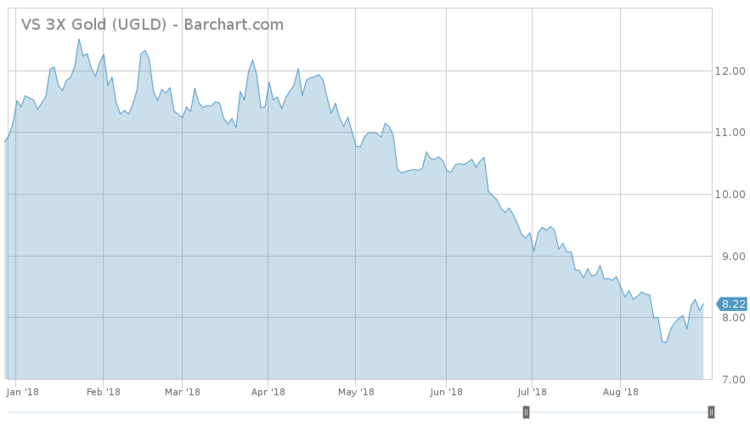 Gold prices have been moving in the opposite direction of the U.S. dollar lately, essentially making it dependent on the greenback's performance. Gold appreciated recently due to the dollar's relative weakness.
Consumer Discretionary
After a few years of pain, retail stocks are regaining favor with investors. Retail ETFs have seen their viewership rise 49% this week, as many retailers are successfully riding the economic strength. Target (TGT) has reported its best quarter in more than a decade, lifting the company's stock by 3%. Walmart (WMT), another retail giant, also reported better-than-expected results for the latest quarter. Overall, SPDR S&P Retail (XRT B+) has climbed nearly 5% in the past 30 days and is up nearly 14% since the beginning of the year, a performance that is much better than the benchmark S&P 500.
Amid a strong U.S. economy, many retailers, particularly department stores, are better equipped now to compete with Amazon as they cut the number of stores and made better use of their real estate assets.
For more ETF news and analysis, subscribe to our free newsletter.
The Bottom Line
This week, emerging markets were in the spotlight again as investors weighed whether or not the Turkey crisis could be repeated in another country given rising U.S. interest rates and a strengthening dollar. One emerging market exponent, Mexico, reached a trade deal with the U.S. after making a few concessions. Small-cap equities have reached record highs this week on optimism about the U.S. economy and consumer sentiment. Leveraged gold gained this week on relative dollar weakness, while the retail sector benefited from a strong U.S. economy.
By analyzing how you, our valued readers, search our property each week, we hope to uncover important trends that will help you understand how the market is behaving so you can fine-tune your investment strategy. At the end of the week, we'll share these trends, giving you better insight into the relevant market events that will allow you to make more valuable decisions for your portfolio.