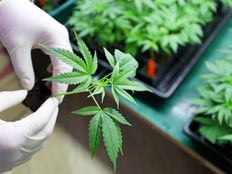 Up nearly 45% this year, the ETFMG Alternative Harvest ETF MJ (MJ B-) is one of 2019's best-performing non-leveraged exchange traded funds.
As the rules and regulations around marijuana begin to loosen, with improving sentiment on the recreational usage on the once highly guarded drug, more businesses are starting to dabble and expand the cannabis industry, and investors can also access the growth opportunity through related exchange traded fund strategies.
Indeed, increased legalization of cannabis, be it medicinal or recreational, is a major catalyst for MJ and cannabis stocks, but another catalyst could be a major growth driver for this market segment: the cannabidoil (CBD) market.
"The CBD market could represent a $16-billion opportunity by 2025, according to a report issued Monday by a team of Cowen analysts," reports ETF Daily News. "The findings are based on a roughly 40-percent increase in consumer incidence with the average user spending $640 — or less than $2 per day — each year."
---
Content continues below advertisement