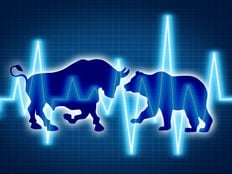 To help investors keep up with the markets, we present our ETF Scorecard. The Scorecard takes a step back and looks at how various asset classes across the globe are performing. The weekly performance is from last Friday's open to this week's Thursday close.
The European Central Bank slashed its forecast for growth this year and unveiled a fresh two-year lending program to bolster supply. The central bank hopes banks will reignite lending to businesses and consumers and lead to a pickup in growth in the second part of the year. However,

ECB

President Mario Draghi reiterated that risks are tilted to the downside.
The ECB's move is unsurprising. Purchasing managers' indices (

PMI

) in Germany, Italy and Spain are in contraction territory, with France the only bright spot. The unemployment rate in Italy rose to 10.5% in February from 10.4% in the prior month.
Brexit is now down to the wire and there is a silver lining. The European Union has advanced new proposals for the Irish backstop focusing on speeding up the process of finding a solution to avoiding a hard border between Ireland and Northern Ireland. Crucially, though, the new offer falls short of U.K. Attorney General Geoffrey Cox's demands.
Convincing Cox to support the deal is key to approving Brexit in the U.K. Parliament.
European consumer price index (

CPI

) increased by 10 basis points to 1.5% year-over-year in February, while core inflation declined to 1% from 1.1%.
U.S. manufacturing

PMI

came in at 54.2 in February, down from 56.6 in the prior month and continuing to hover near two-year lows.
U.S. new home sales jumped to 622,000 in February from a revised 599,000 in January.
Crude oil inventories advanced 7.1 million barrels for the week ended March 1, reversing to gains after a loss of 8.6 million in the prior week.
Risk Appetite Review
Risk assets (

SPHB

) were the worst performers for the week, with a decline of 3.27%.
Low volatility assets (

SPLV

) declined only 0.25%, the best performance from the pack, as investors sought shelter amid deteriorating economic data across the board.
The broad market (

SPY

) also fell by 1.42%.
Sign up for ETFdb.com Pro and get access to real-time ratings on over 1,900 U.S.-listed ETFs.
---
Content continues below advertisement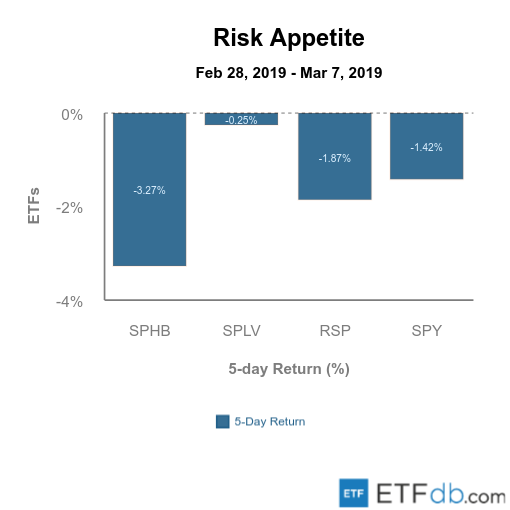 Major Index Review
Major indexes were all down.
Small-cap stocks (

IWM

) were the worst losers from the pack, declining 3.44%, as an economic slowdown in the U.S. may catch many highly indebted companies unprepared.
Technology stocks (

QQQ

) acted as a relative safe haven, declining only 0.93% this week.
To see how these indices performed over the past year, check out ETF Scorecard: March 1 Edition
Sectors Review
Sectors were almost all down.
Telecom stocks (

XTL

) was the most hit, losing 3.89%, as a spat between Chinese telecom equipment manufacturer Huawei and the U.S. and Canadian governments took a toll on sentiment. Progress on a potential trade deal between the U.S. and China has failed to boost telecom stocks.
Utilities (

XLU

) was the best performer, gaining 1.13%, as demand for safe-haven assets increased, even in the face of the bankruptcy of California utility PG&E.
Use our "Head-to-Head Comparison tool":https://etfdb.com/tool/etf-comparison to compare two ETFs such as (XLU A) and (XTL A) on a variety of criteria such as performance, AUM, trading volume and expenses.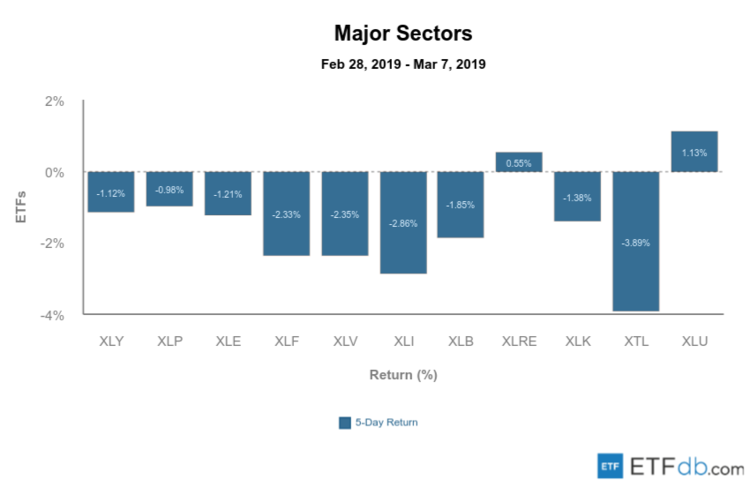 Foreign Equity Review
Foreign equities posted mixed performance.
Amid a bloodbath in global equities, Indian stocks (

EPI

) bucked the trend, surging 3.39%. The rebound comes after the worst losing streak since May 2011.
Brazilian equities (

EWZ

) lost nearly 6% of their value in the past five days, as investors questioned President Jair Bolsonaro's plan to deliver on pension reforms amid mounting opposition.
To find out more about ETFs exposed to particular countries, check out our ETF Country Exposure tool. Select a particular country from a world map and get a list of all ETFs tracking your pick.
Commodities Review
Silver (

SLV

) was again the worst performer, declining 4.47%.
Meanwhile, natural gas (

UNG

) gained 1.16%, as forecasts for cold weather in the U.S. boosted the commodity.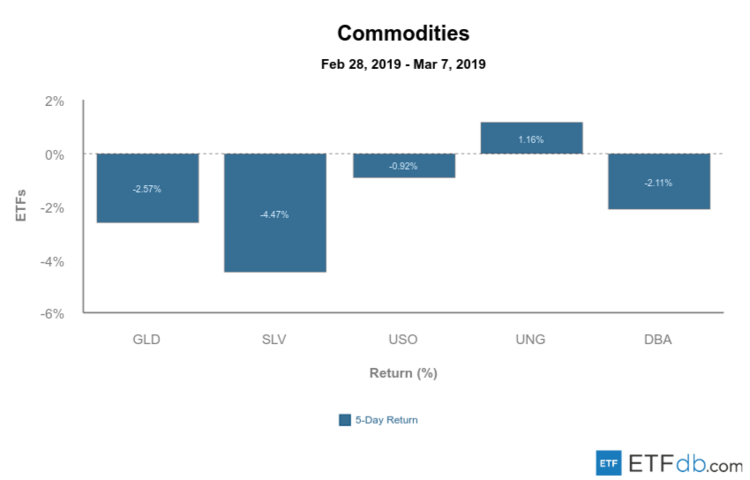 Currency Review
Euro (

FXE

) lost 3.73% for the week, as the currency was hit by a dovish European Central Bank, which announced a two-year lending program to boost stalling growth.
The U.S. dollar (

UUP

) was the only gainer this week, advancing 1.80%, largely benefiting from weak growth overseas.
For more ETF news and analysis, subscribe to our" free newsletter.":http://etfdb.com/newsletter/