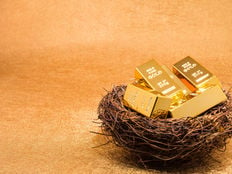 Recent data from the World Gold Council suggests global investors and central banks remain fond of bullion and in particular, gold ETFs, including the SPDR Gold Shares (GLD A-) and SPDR Gold MiniShares (GLDM ).
Ongoing concerns over the health of major economies, notably in Europe, have pressured global rates this year, sending yields on many conservative fixed-income assets down. Meanwhile, the non-yielding gold looks more attractive in the more muted interest rate environment since lower rates diminish the disadvantages of holding non-yielding physical assets.
New data from the World Gold Council (WGC) indicate some global central banks remain voracious buyers of the yellow metal.
"Gross purchases of 48 tonnes (t) and gross sales of 13t led to global gold reserves rising by 35 tonnes on a net basis in January, with sizeable increases from 9 central banks," according to the WGC. "This is the largest January increase in gold reserves in our records (back to 2002) and illustrates the recent strength in gold accumulation. Demand was concentrated amongst emerging market central banks with diversification the key driver in the face of ongoing geopolitical and economic uncertainty. Please note that our data set now includes gold reserves data for Uzbekistan back to December 2017."
What's Next for Gold Investing
Gold bulls in particular see momentum after the Federal Reserve officials hinted at a more dovish stance on interest rates for this year. According to Fed fund futures, options traders were betting on a 9% chance rates will fall this year and 91% are betting on an unchanged interest rate outlook.
Central banks in China and Russia have been boosting gold holdings over the past several and in late 2016, Turkey's central bank started boosting its bullion holdings, according to WGC data.
"The Bank of Russia in January increased its holdings by almost 20 metric tons to 1,857 tons, topping the People's Bank of China's reported 1,843 tons. While Russia has increased its holdings every month since March 2015, China last reported buying gold in October 2016," reports Bloomberg.
---
Content continues below advertisement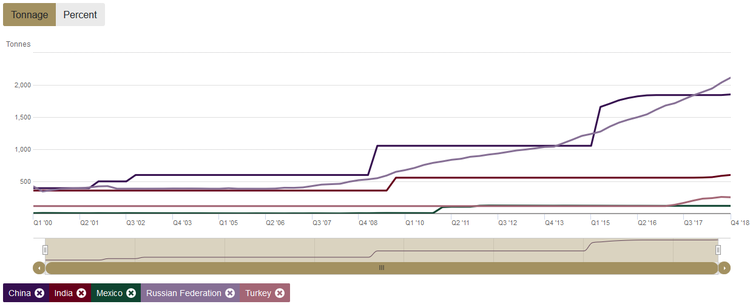 Chart Courtesy: WGC
For more information on the gold markets, visit our gold category.