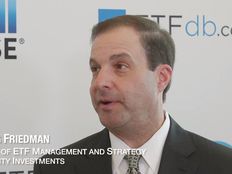 In an increasingly competitive industry, brokerage platforms are working more closely with exchange traded fund providers in offering commission-free trades to help build tactical asset allocation strategies without extra costs.
"We increased our commission-free line-up for our clients to over 500 products," said Greg Friedman, Head of ETF Management and Strategy, Fidelity Investments, at Inside ETFs 2019. "We're excited about it because it gives our clients a lot more choice, value and innovation from where they can choose from."
On February 28, Fidelity's expanded commission-free ETF platform will include additional iShares ETFs as part of an extension of Fidelity's partnership with BlackRock. Furthermore, the platform included more choices among smart beta and actively managed ETF strategies from over ten asset managers and leading ETF providers in the months ahead.
Fidelity previously offered 265 commission-free ETFs, including 25 of Fidelity's factor, sector, stock and bond ETFs, along with 240 iShares ETFs.
The commission-free deal is seen as an extension of the ongoing fee war in the ETF industry as an increasingly competitive landscape pushed down overall investment costs to attract investment money.
Fidelity's announcement came off the heels of Charles Schwab's decision to more or less double its lineup of commission-free ETFs on its OneSource platform. Schwab clients will be able to buy and sell 503 ETFs covering 79 Morningstar Categories with $0 online commissions, including the addition of iShares ETFs as of March 1, along with a number of other fund sponsors like Invesco, State Street Global Advisors and WisdomTree, among others.
Last summer, Vanguard Group set a new benchmark after offering commission-free trading on 1,800 ETFs, compared to the previous 77 commission-free ETFs it previously offered to that point.
Watch the full interview between ETF Trends CEO Tom Lydon and Greg Friedman:
---
Content continues below advertisement