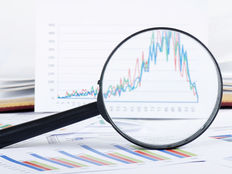 Investors are feeling optimistic about the economy heading into 2020 and it's translating to gains in corporate bonds that haven't been seen in the last 10 years or so, according to a Wall Street Journal report.
"A spirited rally is pushing some types of corporate bonds toward their best year in a decade, underscoring investors' increasing optimism about trade and the economy," a Wall Street Journal article by Sam Goldfarb noted. "Including price changes and interest-rate payments, U.S. investment-grade corporate bonds have returned 14.6% year-to-date through Friday—on track for the first double-digit tally since 2009, according to Bloomberg Barclays data. Speculative-grade bonds have returned 13.3%."
Investment-grade corporate bond-focused fixed-income ETF options include the *iShares Intermediate Credit Bond ETF (CIU A), iShares iBoxx $ Investment Grade Corp Bond ETF (LQD A)* and *Vanguard Interm-Term Corp Bond ETF (VCIT A)*.
CIU tracks the investment results of the Bloomberg Barclays U.S. Intermediate Credit Bond Index. CIU focuses on investment-grade corporate debt and sovereign, supranational, local authority and non-U.S. agency bonds that are U.S. dollar-denominated and have a remaining maturity of greater than one year and less than or equal to ten years.
LQD seeks to track the investment results of the Markit iBoxx® USD Liquid Investment Grade Index composed of U.S. dollar-denominated, investment-grade corporate bonds. LQD allocates 95 percent of its total assets in investment-grade corporate bonds to mitigate credit risk.
VCIT seeks to track the performance of a market-weighted corporate bond index with an intermediate-term dollar-weighted average maturity, namely the Bloomberg Barclays U.S. 5-10 Year Corporate Bond Index. While VCIT holds debt issues with maturities between 5 and 10 years, they are all investment-grade holdings to minimize default risk.
---
Content continues below advertisement
High Yielding Options
Investors seeking high yield can look to ETFs like The High Yield ETF (HYLD B-). HYLD seeks high current income with a secondary goal of capital appreciation by selecting a focused portfolio of high-yield debt securities, which include senior and subordinated corporate debt obligations, such as loans, bonds, debentures, notes, and commercial paper.
Another option is the VanEck Vectors Fallen Angel High Yield Bond ETF (ANGL A-). ANGL seeks to replicate as closely as possible the price and yield performance of the ICE BofAML US Fallen Angel High Yield Index, which is comprised of below investment grade corporate bonds denominated in U.S. dollars that were rated investment grade at the time of issuance.
ANGL essentially focuses on debt that has fallen out of investment-grade favor and is now repurposed for high yield returns with the downgraded-to-junk status.
This article originally appeared on ETFTrends.com.