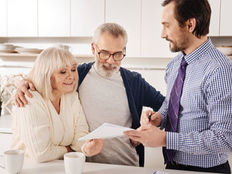 It's no secret that your clients are aging. Right now, more than 40 million Americans are over the age of 65.
The mature market will only continue to grow. By 2030, the last of the Baby Boomers will reach the age of 65. Matter of fact, today and every day until 2030, about 10,000 Boomers will turn 65-years-old.
An aging client base certainly prompts financial advisors today to focus on multi-generational planning and preparing for wealth transfer. However, a client base that is aging should also urge advisors to think carefully about "age-adjusting" their business to focus on the physically changing needs of their mature clients.
Click here to know more about engaging with the baby boomer generation.
Your Office Set Up
It is important to be aware of your older clients' new potential physical changes and challenges. They may have disabilities they did not have previously, as well as reduced or limited mobility.
Be cognizant of the possible aspects of your office that could be hazardous or difficult for them to navigate.
Are the floors slippery? Do you have area rugs that might skid or cause clients to trip? Is there ample space in your office for clients with wheelchairs or walkers to get through? Do you have ramps to get in and out of your office, handrails for the stairs, as well as grab bars in the bathrooms?
Do you have door knobs or door levers in your office? Door knobs are much harder to grip. Door levers are easier for clients with arthritis to open.
What is the lighting like in your office? Your older clients may also be sensitive to light and have a hard time seeing certain colors. Be sure your office, meeting rooms, hallways and walkways are well lit. Also be conscious of glares and where the windows are in the rooms that you meet with clients.
Visual impairments may also pose challenges when it comes to reading your materials and handouts. Are your clients squinting to read them? You may want to consider larger font size on materials they have to read.
In addition, consider the temperature in your office. Your older clients are also likely sensitive to cold and heat. Take into account meeting with them in rooms or offices that you can control the thermostat easily.
---
Content continues below advertisement
Meeting with Your Mature Clients
Since their needs may change from meeting to meeting, routinely consult with your older clients to determine what special accommodations might be necessary to best ensure their comfort and effective communication in your office. If a change in venue, such as a home visit, could make meeting with your older clients easier, don't hesitate to ask.
When possible, however, schedule formal meetings at your office for your mature clients. They generally prefer face-to-face communication.
Assess what the parking is like for your clients at your office. Are the walkways to your office smooth and easy to navigate or are they uneven and potentially dangerous? Is your signage easy to read?
Keep in mind some of your older clients may also need to arrange transportation to get to your office. Once they arrive at your office, be sure someone from your team assists them, if necessary.
Hearing Impairments
Your mature clients may have trouble hearing you. Roughly one-third of Americans who are between the ages of 65 and 74 have hearing loss. About half of Americans who are older than age 75 have hearing loss.
Sometimes behavior associated with hearing impairment is mistakenly taken as dementia. If your clients seem inattentive, have a lack of expression or their responses may be inappropriate to your comments, they may have a hearing impairment. Keep an eye out also if they are bending their head to favor a particular ear.
Assess what the acoustics are like in your office. Is the HVAC too loud? In addition, carefully assess the background noise in your office. Close the doors to your client meeting rooms to reduce the background noise of phone calls or conversations taking place in the hallways.
Remember to enunciate and speak clearly in your meetings. Maintain good eye contact and emphasize important points in your meetings. Use non-verbal cues to show you are listening to them as well. Point at things when appropriate to emphasize points. Avoid complex jargon and use stories, as well as metaphors to explain potentially confusing concepts. Be patient and never rush. Summarize the main points of your meeting at the conclusion and provide them with a bulleted summary to take with them.
Train Your Team
Consider training your whole team to be sensitive to these challenges. Lee Health, based in Fort Myers, Florida, provides a hands-on Age Sensitivity Program called the SECURE Project to help your staff be more aware of the needs of your older clients. The training is virtual and also provides simulation kits that can be shipped for your staff to simulate what it is like to have various visual impairments, as well as arthritis.
The more you and your team can educate yourselves on the physical challenges your older clients are experiencing, the more sensitive and helpful you will become.
Uncertain about guiding clients through the retirement planning process? Click here to know more.
The Bottom Line
With the growing number of aging clients you have, it is imperative to stay educated and aware of the physical challenges they are facing as they age.
When in doubt of the needs your mature clients may have, simply ask! The goal is to do whatever you can to help make communication as easy as possible and visits to your office as comfortable as possible.
Be sure to visit our Practice Management section for the latest updates.