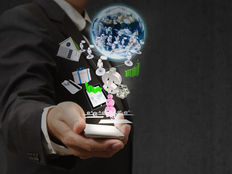 Technology ETFs have become investor favorites over the years, as Wall Street continues to buzz about a number of tech firms that are continually rolling out never-before-seen products. Technology funds allow investors to get involved in all aspects of the tech world, from retail companies like Apple to internet companies like Google, to biotech firms, and to the companies that supply the building blocks for technology-based consumer goods. Below are our best articles focused on analyzing and highlighting the technology ETF options for investors.
Technology ETFs
2016-12-06
Information technology has changed the very nature of the financial markets, sparking a FinTech...
Technology ETFs
2016-10-13
Artificial intelligence – or AI – may sound like a sci-fi concept that remains a distant...
Technology ETFs
2016-10-06
The Internet of Things (IoT) industry may seem obscure to some investors, but it's expected to...
Technology ETFs
2016-06-02
Since the crash of the dotcom bubble in the late 1990s, many investors are still wary about...
Technology ETFs
2015-10-09
The biotech industry has experienced quite the reversal over the past few months. After posting...
Technology ETFs
2015-06-24
When it comes to focusing on "old" versus "new" companies, the ETF product lineup covers both...
Technology ETFs
2015-06-23
In 2006, First Trust became the first issuer to offer investors a way to target one of the...