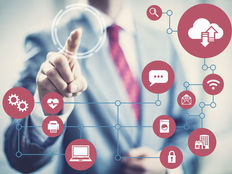 The Internet of Things (IoT) industry may seem obscure to some investors, but it's expected to become a $661.7 billion industry by 2021, according to Markets and Markets. In simple terms, IoT refers to the internetworking of physical devices in order to enable the collection and exchange of data. These devices have applications across a number of different industries ranging from smart energy grids to connected cars.
In this article, we'll take a look at the best exchange-traded funds (ETFs) to profit from the massive upcoming growth in the IoT industry.
What Is the Internet of Things?
Suppose that you own a factory with complex machinery that must be maintained over time. Currently, you wait for a machine to break down and then call a maintenance technician to repair it. The problem is that someone must notice the machine is down, find the problem area and call the right technician for the job. Instead, Internet of Things technologies could reduce downtime by using a sensor that instantly recognizes the problem and calls the right technician.
There are countless applications for these kinds of IoT technologies. While industrial uses can help reduce downtime and enhance performance, consumer-facing applications can help reduce costs and increase efficiency. The gateway technology could even pave the way for so-called "smart cities" that operate at peak efficiency, as well as expedite the move to renewable energy by enhancing energy storage and routing efficiency.
---
Content continues below advertisement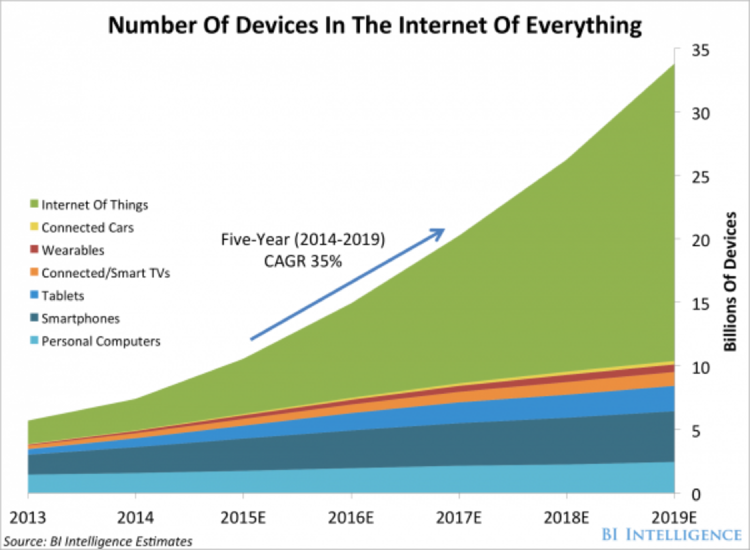 Some key high growth applications of IoT include:
Smart Homes – Appliances connected to the internet can be remotely controlled for greater convenience and cost savings, with analysts projecting the smart home market to grow to $122 billion by 2022.
Wearables – Smart watches and fitness trackers monitor movements and provide real-time feedback to improve health, with companies like FitBit Inc. (

FIT

) achieving multi-billion dollar valuations in the space.
Connected Cars – Internet-connected cars are equipped with detailed maps that are updated in real-time, with analysts estimating that there will be some 250 million connected cars on the road by 2020.
Smart Buildings – Office buildings can automatically flag maintenance issues and adjust climates in order to save money and improve the environment, in a market that analysts believe could reach $92 billion by 2023.
Smart Grids – Communication between utilities, transmitters and customers can more evenly distribute power, in what analysts believe could become a $120 billion market by 2020.
There are also many sectors involved with the IoT industry, including connected device manufacturers, network service providers and semiconductor manufacturers.
Internet of Things ETFs
There are several ETFs that provide exposure to Internet of Things companies, but the Global X Internet of Things Thematic ETF (SNSR B+) is the most popular pure play. The fund seeks to invest in companies focused on the development of semiconductors and sensors, integrated products and solutions, and applications serving smart grids, smart homes, connected cars and the growing number of industrial internet of things applications.
The ETF's top holdings include:
SNSR's inception date is on September 12, 2016 with a modest expense ratio of 0.68%. The fund's assets under management are expected to grow over time and add liquidity to the ETF, which should remove some of the liquidity risks that investors may face. It's worth noting that the average market capitalization of the underlying holdings is nearly $23 billion, while no holding accounts for more than 7% of the portfolio.
Aside from the new pure play option, investors can also invest in a number of related ETFs that could benefit from IoT trends. Some popular options include:
| Ticker | Name | Issuer | ETFdb Category | Expense Ratio |
| --- | --- | --- | --- | --- |
| (SNSR ) | Global X Internet of Things Thematic ETF | Global X | Technology Equities | 0.68% |
| (FXL ) | First Trust Technology AlphaDEX Fund | First Trust | Technology Equities | 0.67% |
| (SMH ) | VanEck Semiconductor ETF | VanEck | Technology Equities | 0.35% |
| (PZD ) | PowerShares Cleantech Portfolio ETF | PowerShares | Alternative Energy Equities | 0.67% |
Investors should carefully consider the expense ratios and liquidity risks associated with these ETFs before making an investment decision.
The Bottom Line
The Internet of Things market is expected to surpass $600 billion in size by 2021, which creates a significant opportunity for investors interested in the space. While the Global X Internet of Things Thematic ETF is the only pure play, there are a number of other ETFs that provide similar exposure to different parts of the IoT market. Investors should carefully consider the risks before investing, however, including liquidity risks and expense ratios.