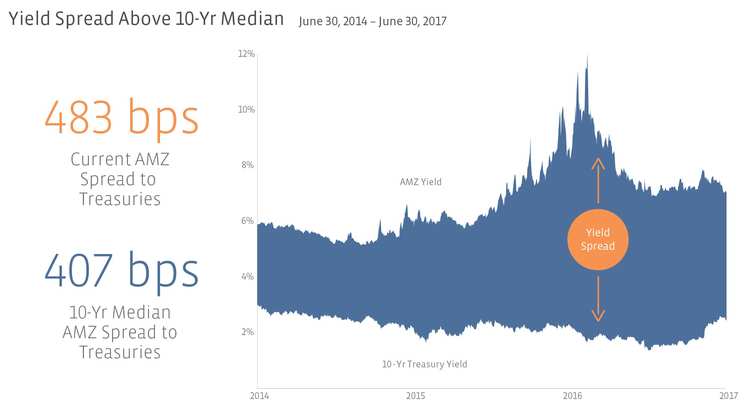 Although the snapshots between now and then look relatively similar, a lot happened over the last two years. If you're wondering about that spike in the chart in early 2016, that reflects the day MLPs hit their low of the recent energy cycle. The AMZ was yielding 12.01% on that day and the 10-year Treasury was at 1.66%! That's a spread of 1035 bps for those of you playing along at home. The rolling 10-Yr median AMZ spread to treasuries has increased by 70 bps and the lowest spread we've seen over the past two years was 413 bps in January 2017.
So, what does all of this mean?
Well, it could mean a few things. One is that investors are still expecting interest rates to rise. This isn't an empty expectation. Economists do believe we'll see a bump in the 10-year Treasury by the end of 2017, but it won't be too earth-shattering. They say we can expect an increase of about 10 bps.
It could also mean that MLPs are undervalued. Some say that even with oil hovering around $50 per barrel, there is an increasing need for midstream services. Due to new technologies and improved efficiencies, wells are being drilled two times faster and seeing three times as much production. Is it possible that investors aren't fully grasping the extent of midstream services that will be needed to get oil to market?
Or possibly, this is the new normal. The chart below shows ten years of yield spread history. Each bar represents a spread grouping and the y-axis reflects percentages of time. While spreads within the 3.01%-3.50% were still seen most frequently, it is becoming increasingly more likely to see spreads in the 4.51%-5.00% range. In 2015, spreads in this group only occurred about 10% of the time, now we're looking at 13.2% of the time.
---
Content continues below advertisement
Is it conceivable that this is just the spread MLP investors can expect in the near future? Most can agree there are much worse things than 7% yields!
As we move forward in an ever-changing financial climate and oil price environment, we will look at the effects of interest rate increases with fresh eyes. Alerian's Director of Research will release an update to our existing white paper discussing MLPs and interest rates in the next few weeks. Stay tuned!