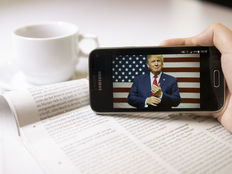 ETFdb.com analyzes the search patterns of our visitors each week. By sharing these trends with our readers, we hope to provide insights into what the financial world is concerned about and how to position your portfolio.
To no one's surprise, ETFs that are expected to gain following Donald Trump's victory in the U.S. presidential election have been the most popular assets in the past week. Infrastructure, Aerospace and Defense, and Financials have all seen their traffic surge on expectations Trump's policies will be beneficial to these assets. Copper has also been in the spotlight, largely because of higher expected demand in the U.S., while the Dow Jones Industrial Average trended because it reached a new high following Trump's victory. Take a look at the previous week's Trends by reading Pound Gains as Theresa May's Brexit Strategy Hits a Wall.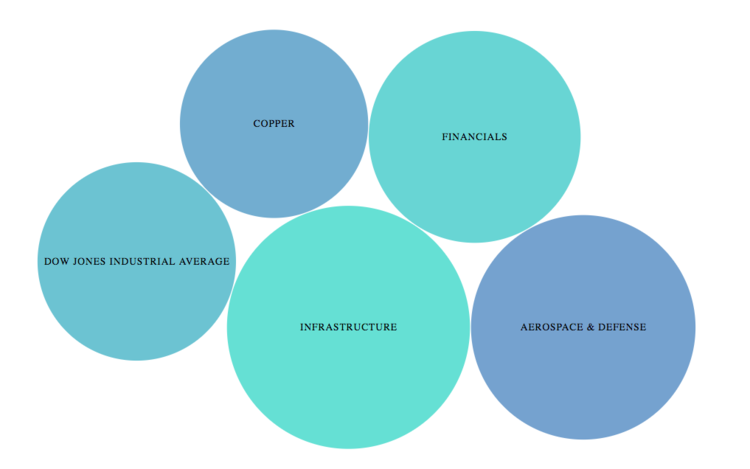 ---
Content continues below advertisement
Infrastructure Investors Skeptical About Trump's Plans
Infrastructure ETFs have seen their traffic rise as much as 1,190% over the past week, as readers turned their attention to the massive spending package promised by President-elect Donald Trump. iShares Global Infrastructure (IGF A), for example, spiked soon after news of Trump's victory emerged, but have steadily fallen since then and are now down 3.89%. This poor performance was still not enough to erase year-to-date gains: IGF is up 5.51% since the beginning of the year.
Trump's plan of splashing out $550 billion on infrastructure over the next decade has raised many eyebrows. It is unclear how the president-elect will be able to convince a Republican Congress to increase the budget deficit given its staunch opposition to such initiatives in the past. A blueprint laid out by Trump's economic advisers say there would be no need for a higher budget deficit given that they plan to use private money. However, private investors would participate if they were given a good return on investment, something that may be hard to do given the nature of many infrastructure projects. It remains unclear whether the plan will work, but based on the recent performance of infrastructure stocks, the market remains skeptical. For more on infrastructure ETFs, read Infrastructure ETFs Are Likely to Flourish Under Trump.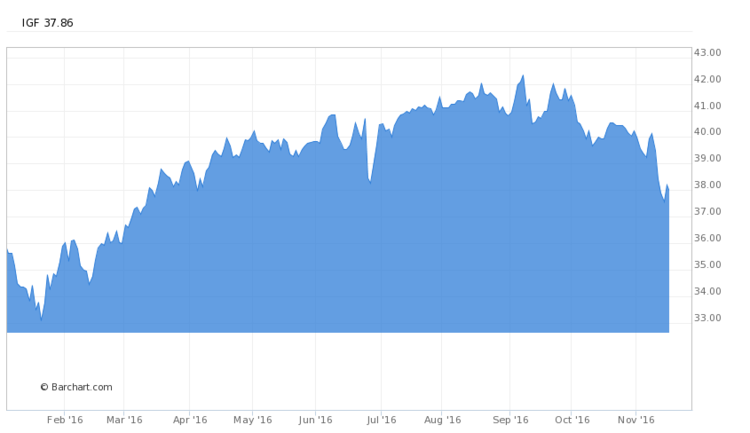 Aerospace & Defense ETFs Surge on Trump Spending Hope
Aerospace and Defense is another sector that received increased attention from our readers in the aftermath of Trump's victory, with its traffic surging 810%. That is not surprising given that the president-elect signaled a hawkish stance on conflicts in Syria and elsewhere, suggesting he will increase the defense budget. Investors have cheered Trump's victory by bidding iShares U.S. Aerospace & Defense ETF (ITA B+) up nearly 10% since November 8. Year-to-date, ITA has risen 18.5%.
Aerospace and defense companies, including Boeing (BA), Honeywell International (HON) and Lockheed Martin (LMT), have congratulated Trump on his victory and have said they look forward to working with the incoming administration. These U.S. companies could benefit the most given Trump's suggested preference for American contractors. The President-elect pledged to increase the defense budget, going along the lines of a typical Republican nominee. However, he also promised to be tougher on NATO members who fail to spend at least 2% of their GDP on defense, something that could provide another boost to aerospace and defense companies around the globe. For more on the influence of Trump policies on the sector, you could read The Big Play in Aerospace & Defense ETFs Under Trump's Win.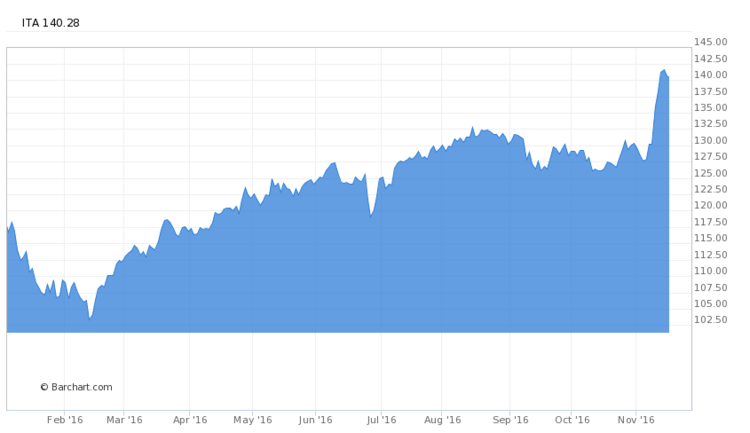 Financials
It's been a while since financial institutions received good news from the government – the financial crisis of 2008 left many of the largest banks struggling to offer good returns. Trump's victory in the election is expected to give the banking business the much-awaited shot, as the president-elect unveiled plans to revamp the Dodd-Frank Act, which made sure a similar financial crisis would not happen again. SPDR S&P Regional Banking ETF (KRE A-), an ETF containing a litany of regional lenders, has risen more than 15% since Trump was elected president, extending year-to-date gains to about 20%.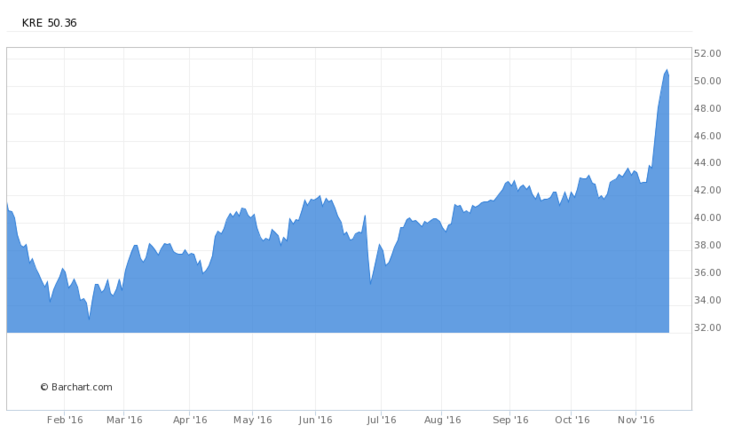 The reason for such optimism is undoubtedly Trump's promise to improve the banking environment by simplifying rules and reducing bureaucracy. His administration hopes this will prompt financial institutions to increase lending along with their profitability. Senior banking figures have also called for easing of the regulatory burdens, while a Trump campaign adviser said the worst anti-business parts of the Dodd-Frank Act would be ditched. On his post-election website, Trump said the new regulations were particularly impeding regional banks from prospering, saying "community financial institutions have disappeared at a rate of one per day." A detailed plan has not yet been published, but investors are optimistic the financial industry has turned a corner.
Copper
Copper has surged following the news of Trump's win because of his promise to dramatically increase infrastructure spending. Copper took fourth place in our weekly list, with a 430% rise in traffic on investor optimism about rising U.S. demand for the commodity. iPath Bloomberg Copper Subindex Total Return ETN (JJC A) has jumped about 9.5% since November 8, extending year-to-date gains to 15%.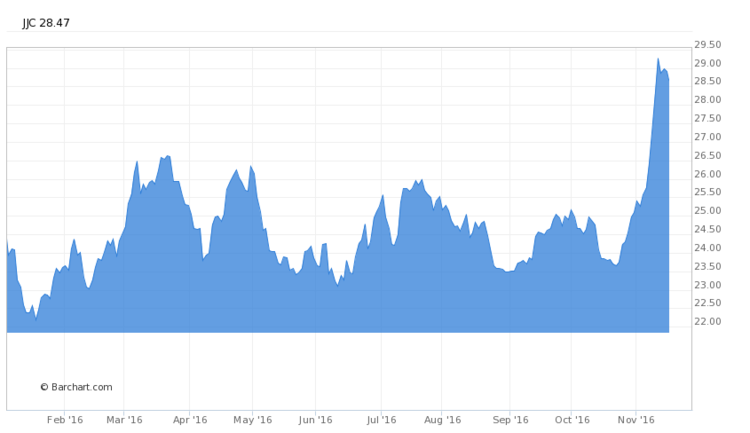 Many market watchers have taken the recent copper surge with a grain of salt. Analysts have argued that even if Trump delivers on his ambitious infrastructure spending project, demand for copper will not increase significantly. China is dictating the prices of the shiny commodity given that it is by far the largest consumer, and the demand from the country has been slowing lately. Use our Head-To-Head ETF Comparison Tool to easily compare various features of commodity ETFs such as iPath Bloomberg Copper Subindex Total Return ETN (JJC A) and SPDR Gold Shares ETF (GLD A-). Compare features such as expenses, holdings, performance, technicals and more.
Dow Jones Industrial Average
The Dow Jones Industrial Average has reached a new all-time high following Trump's victory, a performance that attracted 410% more visitors this week compared to last one. Evidently, investors cheered the prospects of a Trump presidency, in no small part due to his expected pro-business policies, including tax cuts and infrastructure spending. The SPDR Dow Jones Industrial Average ETF (DIA B+), an ETF closely tracking the index's performance, has risen more than 5.6% since November 8, extending year-to-date gains to as much as 8.6%.
The Bottom Line
This week was all about the surprising victory of Donald Trump in the U.S. presidential election. The stunning upset proved to be bullish for a series of assets such as regional banks, the Dow Jones index, the aerospace and defense sector, and copper; although, much of the optimism could be overblown. Infrastructure ETFs have suffered in the past few days, despite Trump's promise to invest heavily in U.S. bridges, railroads and schools.
For more ETF news and analysis, subscribe to our free newsletter.
By analyzing how you, our valued readers, search our property each week, we hope to uncover important trends that will help you understand how the market is behaving so you can fine-tune your investment strategy. At the end of the week, we'll share these trends, giving you better insight into the relevant market events that will allow you to make more valuable decisions for your portfolio.