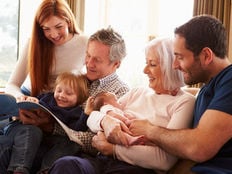 Helping to engage your clients' families just may be the key ingredient to successful multi-generational planning for your practice. Hosting family meetings has increasingly become a best practice for elite financial advisors.
If you haven't embraced this best practice yet, encouraging your clients to have family meetings really is imperative. While it may seem like a lot of work and there might be some resistance among your clients themselves, successful wealth management, wealth transfer and estate planning truly requires strong familial communication.
Despite even the best of hopes and intentions, a transfer of assets between generations can wreak total havoc on families. Lack of trust and communication are important issues that can damage a successful family wealth transfer and, unfortunately, tear families apart. Matter of fact, research from the Williams Group indicates 60 percent of wealth transfer failures are rooted to lack of trust and communication.
Click here to find out ways to guide clients through the retirement planning process.
The Benefits
The benefits of hosting family meetings are tremendous. Family meetings not only promote collaboration, but they also build solid communication among family members.
Family meetings encourage partnership and conflict resolution, as well as help prevent family disputes down the road.
They also prepare heirs for the future, eliminate bad financial decisions and minimize the potential dangers of wealth transfer.
Family meetings are also a great way to bring family members together who may not live locally and are geographically spread apart.
---
Content continues below advertisement
The Potential Pushback
While the benefits are significant, tread lightly initially. Some clients might potentially resist the idea.
Why? For various reasons. There may be familial issues of both fear and control. There may be negative family dynamics and relationships. Even privacy issues may be of great concern.
However, stay positive and don't let this deter your efforts. Encouraging them to embrace the idea may ultimately help them address and resolve these issues now, so the results could be immeasurable in the future.
Remind them that having a family meeting now might help to avoid an unavoidable emergency family meeting upon the death of a loved one.
Assisting them in this invaluable area will also deepen your relationship profoundly.
Elements of the Meeting
How often should you encourage your clients to have family meetings? The goal should be to at least have one. After the initial family meeting, the family should decide on what is realistic, but the frequency should be annually at a minimum.
Who is invited to attend the family meeting? The goal should be to invite all generations of the family. The family should decide whether spouses of family members should also be included in the meeting.
The Agenda
The meetings should be in a non-formal setting. They should have a specific, pre-planned agenda so that family members understand that the purpose of the meeting is not simply a social get-together.
A leader should be appointed to run the meetings. It could be a family member or it could be you as their trusted advisor. If they choose to have a family member run the meetings, while the first meeting may be led by an elder, suggest rotating the leader from year to year in order to represent family members from the different generations.
Meaningful Legacy Conversations
Meaningful legacy conversations should be the focus of the meetings. The goal should be for the whole family to understand their family's wealth, goals, heritage, core values and family legacy.
How did the family build their wealth? What does wealth mean to them? How do they want to be remembered? What are their hopes and dreams for the future generations? What are their philanthropic wishes as a family? What is their favorite charity? Who taught them the most about money? What are their earliest money memories? What is their family mission and core values?
It is important to emphasize that the younger members of the family can and should contribute their wisdom to these meaningful legacy conversations. These questions are not just for the elder family members to answer. What is important to them is just as important to the family legacy. What are their hopes, dreams and goals? What does legacy and wealth mean to them?
Wondering how to engage with the younger generation? Check out here.
A word to the wise. If you are asked to facilitate the meeting, be sure to do your legwork prior. What important issues need to be raised and discussed among family members? Should there be any pre-work done by the family members before the meeting to be best prepared?
Also, if you are asked to facilitate, it goes without saying you should lead the investment and estate planning conversation. Keep it top line, however. Additionally, be sure to remain neutral – remember, you are in the role of a facilitator.
Are you engaging with the baby boomers in an efficient manner? Find out here.
Taking Action
Be sure the family creates a follow-up plan that is put into action post-meeting. What needs to be accomplished in the coming year prior to the next meeting? What goals do they have to complete as a family and as individuals?
They should also consider assigning a family scribe to write or record the highlights of the meeting. Especially when important legacy conversations are taking place, capturing those personal stories of values, culture and legacy are truly priceless.
The Bottom Line
Family meetings can be transformational. They can deepen family ties, culture and help build legacies that will transcend generations.
Family meetings will also strengthen your tie to the various generations and will help you avoid losing the adult children and grandchildren when the patriarchs and matriarchs of the family pass on.
Be sure to explore our dedicated Practice Management section for regular updates.